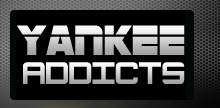 November 3, 2011 · Doug Rush · Jump to comments
Article Source: Bleacher Report - New York Yankees
We've hit November 3, 2011, which means only one thing: free agency in baseball can now begin.
For the Yankees, it begins their quest to improve their team for another chance to make the postseason in 2012.
Last winter, they pieced together the team, and it was one of the smarter offseasons for Yankees GM Brian Cashman. But this year, he needs to be bold. He will need to improve the starting pitching staff if they do want any chance to win in 2012. And as the free-agent bidding begins, we know one name the Yankees will cross off their list.
According to Wallace Matthews of ESPN, the Yankees will not be bidding on the services of Phillies starter Roy Oswalt this winter. Per Matthews, the Yankees were very hesitant to pursue Oswalt because of his history of back problems, which includes having two degenerating discs in his lower back, and he has not had surgery on them.
Oswalt was 9-10 with a 3.69 ERA and only made 23 starts in 2011 because of his lingering back injuries.
According to Jon Paul Morosi of FOX Sports, Oswalt and his agent, Bob Garber, are looking for a multi-year deal for the 34-year-old Oswalt this winter. If that is in fact the case, then the Yankees are definitely making the right move in passing on Oswalt.
The Phillies had a $16 million option on the right-hander, which they declined to exercise and made him a free agent after the 2011 season. Because of Vance Worely's emergence as their No. 4 starter, it's very unlikely that the Phillies will bring him back for 2012.
And now, because of Oswalt's preexisting injuries, a lot of teams will proceed with caution when dealing with Oswalt and Garber in negotiations.
I expect a team, most likely in the National League, to give Oswalt a guaranteed deal for 2012, but maybe nothing more than a one or two-year deal at most.
Before Thursday's free agency period began, a lot of people around baseball felt that the Yankees would make a major push for Oswalt for 2012. Before any of this began, Evan Roberts of WFAN suggested the idea of the Yankees and Phillies swapping Oswalt and Nick Swisher. At the time, it sounded like a very realistic idea, but with the Phillies declining the option of Oswalt, it squashed the idea of the trade proposal. And now, with the latest turning of events, it looks like the Yankees are taking themselves out all together of the sweepstakes for Oswalt.
It's a smart move for the Yankees, because they would have been in big trouble relying on a guy who would have been turning 35 and having serious back issues in the most important parts of the season.
There are other options on the trade market, and while Oswalt is a quality name, I think his best days on the mound are behind him. The last thing the Yankees need is an aging pitcher who can't hack it every five days.
For those who were hoping for Oswalt to be in pinstripes, sorry to disappoint you. But in the end, the Yankees will be better off without him.
Read more New York Yankees news on BleacherReport.com