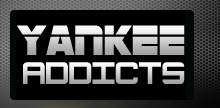 November 1, 2011 · Doug Rush · Jump to comments
Article Source: Bleacher Report - New York Yankees
The Yankees began the month of November on a very high note when they re-signed CC Sabathia.
Sabathia chose not to opt out and got a five-year, $122 million extension with a vesting option for 2017 pending on his shoulder status in 2016.
So it's Sabathia and Ivan Nova as the only guaranteed starters for 2012.
And I say those two only because who knows if the Yankees decide to trade A.J. Burnett and Phil Hughes this winter.
For the second straight off-season in a row, pitching is the ultimate need for the Yankees.
They could go the free agent route and see if veterans Roy Oswalt and Mark Buehrle are interested in short-term deals.
They could take a major risk in bidding for Japanese star Yu Darvish, but with the Yankees' recent failures with Japanese pitchers, they may pass on trying to get him.
So where does that leave the Yankees making a major addition? The trade market.
And I have another trade idea for the Yankees: Matt Cain of the San Francisco Giants.
Back on October 17, I did a story suggesting five potential trade targets for the Yankees, with Cain being on the list.
So now, I am singling him out as a trade target the Yankees should look into and try to pair with Sabathia at the top of the rotation.
During the 2010 playoffs, we saw how good Cain can be when he was 2-0 with a 0.00 ERA in three starts and 21.1 innings.
Without Cain, who knows if the Giants win the World Series?
He's also coming up as a free agent after the 2012 season and is set to make $15 million in the 2012 season.
The Giants know they will likely have to give ace Tim Lincecum a huge pay raise to keep him locked up in San Francisco past the 2014 season, when he is eligible for free agency.
Plus, they have developed Madison Bumgarner, who is only 21, and Jonathan Sanchez, who is 28, and Ryan Vogelsong has emerged as a solid option now for Bruce Bochy.
So it's not like the Giants are weak at pitching. It's offense they desperately need.
The reason why Cain finished at 12-11 and Lincecum at 13-14 in 2011 is because they didn't get any help from the offense whatsoever.
So if the Yankees were thinking of including Jesus Montero in a deal for Cain, I could see it as a starting point.
Most people on this site have said don't trade Montero unless it is for Felix Hernandez or Clayton Kershaw, but honestly, I doubt either the Mariners or Dodgers ever trade their franchise pitchers to the Yankees.
So they have to be realistic in making a trade for a starter if they do want an ace-like pitcher.
Cain could be a very realistic option if the Yankees are looking to add a quality pitcher through trading.
Now, I've also heard the argument of "he's a National League pitcher and the Yankees should stay away."
Okay, and once upon a time, there was a pitcher by the name of David Cone who started out in the National League, got traded to the American League and eventually helped the Yankees win four World Series.
So sometimes, the National League pitcher argument just doesn't work with me.
But, going from the National League West to the American League East would be a big transition for a guy like Cain.
But I think his stuff and makeup is good enough to survive and be good in New York.
He also is a strikeout pitcher who does give up fly-balls, which could end up being home runs. Yes, I know this.
But the better pitchers adjust to their surroundings, and as Cain gets older and wiser, he would learn to make the necessary adjustments needed to be even better.
Honestly, I think if Brian Cashman called up Giants GM Brian Sabean and asked what it would take to land Cain, the two could strike a deal that would benefit both sides.
Sabean sees Lincecum as the ultimate untouchable, while Cain could be had for the right price.
Would the Yankees dare to explore a deal for Cain this winter?
I, for one, hope they do. Putting Sabathia and Cain as the 1-2 punch in the rotation would make their rotation that much better.
Now, it just becomes a matter of hoping the Yankees think of this plan as well.
Stay tuned, Yankees Universe.
Read more New York Yankees news on BleacherReport.com