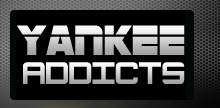 November 2, 2011 · Doug Rush · Jump to comments
Article Source: Bleacher Report - New York Yankees
We are on the verge of free agency beginning in baseball. It's about to get a lot more interesting this winter.
At midnight, stars like Albert Pujols, Prince Fielder and Jose Reyes will become free agents and teams will bid for their services.
As far as the New York Yankees go, they've already taken care of major parts of their free-agent needs before it started.
They picked up the 2012 option on Robinson Cano and Nick Swisher, and they re-signed CC Sabathia to a contract extension on the eve of his opt-out date.
But according to Yankees GM Brian Cashman, who also re-signed for three more years, the main focus of the team this winter is pitching. The only guaranteed starters on the team for 2012 are CC Sabathia and Ivan Nova.
A.J. Burnett could be a candidate to be traded and Phil Hughes isn't reliable, plus Bartolo Colon and Freddy Garcia were one-year signings.
So with free agency tomorrow, the Yankees could look into signing Roy Oswalt and Mark Buehrle, but just in case the Yankees don't sign either one, they will need other options to explore.
Which means in all likelihood, Cashman will be making a few trades this winter.
Now in previous articles, I mentioned trade ideas like Matt Cain and even Johan Santana. Now I am going to throw out another one for you: Matt Garza of the Chicago Cubs.
Before being traded to the Cubs in 2011, Garza was a big part of the Tampa Bay Rays rotation and had success with Tampa.
He won the 2008 ALCS MVP Award with his terrific pitching against the Red Sox, which also included winning Game 7 of the series that sent Tampa to the World Series. His best season with the Rays was in 2010 with a 15-10 record, a 3.91 ERA, 204.2 innings and making 32 starts. In 2011, Garza went 10-10 with a 3.32 ERA in 198 innings and struck out 197 batters in 31 starts.
Garza is arbitration eligible for the Cubs this winter, but with a new regime in Chicago with Theo Epstein and Jed Hoyer, Chicago could be in for a lot of changes this winter too.
Now, trading for Garza wouldn't cost them Jesus Montero, and it may not even cost them Manny Banuelos or Dellin Betances.
Garza isn't an ace, but he could easily fit into the Yankees rotation as a solid number two or three starter, and he'll only be 28 years old come the start of the 2012 season.
So for those who are not in favor of trading for National League pitchers, Garza isn't an NL-only pitcher. He's got the success of pitching in the American League and winning in the American League East.
We know the Boston Red Sox asked for Garza as part of compensation in getting Epstein, but the Cubs said no.
If Epstein really wanted to stick it to his former employers, he could then have Hoyer make a deal with Boston's rivals and deal Garza to the Yankees.
Now, the big question is: What would Epstein and Hoyer ask in return for Garza?
If it's any of the top three prospects in Banuelos, Betances or Montero, I think Cashman would pass. But if he can get Garza and not trade any of them, I think he would make the deal.
So unless the Dodgers are willing to part with Clayton Kershaw or the Mariners with Felix Hernandez, these are the types of trades the Yankees will need to look into if they want to upgrade the rotation.
The clock is ticking to midnight on Thursday.
And personally, if the Yankees have a chance to trade for Garza without dealing any of the top three prospects, they should do it.
For most, it's ticking towards free agency. For the Yankees, it's ticking towards making key trades.
Stay tuned, Yankees Universe. The baseball hot stove is getting very warm…
Read more New York Yankees news on BleacherReport.com