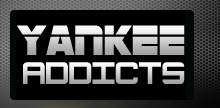 November 28, 2012 · Doug Rush · Jump to comments
Article Source: Bleacher Report - New York Yankees
The New York Yankees want to bring back Russell Martin as their catcher.
The only problem is they have competition for his services as well.
According to Jon Heyman of CBS Sports and WFAN, the Pittsburgh Pirates are in the mix as well and it'll likely come down to either the Yankees or Pirates.
#pirates a threat to favored #yankees in 4-team russell martin derby. belief bucs may go to 3 yrs. cbsprt.co/Tt8lcq

— Jon Heyman (@JonHeymanCBS) November 28, 2012
Heyman said the Texas Rangers and Seattle Mariners have also been interested as well, but it'll likely come down to those two teams.
A decision from Martin could come within the next few days before baseball's annual Winter Meetings, which will begin next week in Nashville.
Now, according to Heyman, he said the Pirates were willing to offer a three-year deal worth around $25 million.
In Heyman's story from CBS on Wednesday, he did say Martin prefers to play in the Bronx with the Yankees.
On Tuesday, I had reported that Martin was originally looking for a four-year deal worth around $9-10 million per year.
But I honestly think Martin knows he may not get that kind of money considering he only hit .211 in 2012.
He did hit 21 home runs and was a finalist for the 2012 Gold Glove Award, but $10 million for a catcher who struggled to hit .200 is a lot of money.
So what this may come down to for Martin is either taking the money from Pittsburgh or having the chance to keep playing for a playoff contender in New York.
My gut says Martin stays in the Bronx because I think he loves the atmosphere and the competitiveness that he's been a part of over the course of two seasons.
As far as a contract, I see GM Brian Cashman offering him a two-year, $18 million deal with an option for a third season, making the deal a three-year, $24.5 million offer.
I don't think the Yankees want to lose out on Martin, especially because they know the catching options after him are rather bleak.
Right now, there's Francisco Cervelli, Austin Romine and Eli Whiteside, who all strike me as more backup catchers than starters.
They could turn to A.J. Pierzynski, but one, he turns 36 soon, and two, who knows if he would even want to play in the Bronx.
The Yankees have also expressed interest in Mike Napoli, but they have yet to even meet with the free agent this winter.
And they haven't because Martin is still their Plan A for catcher, and they will wait to see what he wants to do.
Stay tuned, Yankees Universe.
Read more New York Yankees news on BleacherReport.com