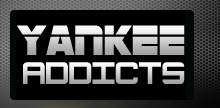 January 17, 2013 · Doug Rush · Jump to comments
Article Source: Bleacher Report - New York Yankees
With a little less than a month until players report to Tampa, the New York Yankees have some holes to fill.
The primary focus right now for the Bombers seems to be finding a right-handed bat.
They lost out on trading for Michael Morse of the Washington Nationals, who was dealt back to the Seattle Mariners in a three-team deal.
There still remains the possibility of New York Mets outfielder Scott Hairston, but it doesn't sound like any negotiations are happening. Also, Hairston is hoping for more playing time as a potential starter.
Where does that leave the Yankees and GM Brian Cashman? According to Wallace Matthews of ESPN, Cashman said the team is still looking to improve.
Cash: Yankees still shopping espn.go.com/blog/new-york/…

— wallace matthews (@ESPNNYYankees) January 17, 2013
With the team desperately searching for offense and options for a right-handed bat, I have an idea that the Yankees could look into revisiting.
Last summer the Yankees nearly traded for former Marlins first baseman / outfielder Carlos Lee, but the 36-year-old rejected the deal.
Along with many other Yankee fans, I never fully understood why Lee rejected a deal to stay on a team that had no chance of contending for a playoff spot. Mike Axisa of River Ave. Blues Yankees blog explained why Lee turned down an offer to to go the Bronx.
Lee said that he talked with the Yankees and asked them what his role would be if Mark Teixeira was healthy. They told him that then he would be sent to left field and that they would alternate him in the lineup with Andruw Jones, Raul Ibanez, Ichiro Suzuki and Nick Swisher. Lee said that he told them an emphatic 'no.'
It looks at this point in his career that Lee has no desire to play the outfield anymore. That is fine, because even during his best years, he was not a very good fielder.
However, as a bat in the lineup, Lee still has some value left.
On average, Lee can still give a team 20 home runs and 80 to 90 RBI while playing 140-150 games per season, which is a number that jumped out at me.
Despite a heavier frame (Lee is listed at 270 pounds), he has played in at least 115 games throughout his 14-year career with the normal average being 145. So, Lee is quite a durable player.
In 2012 with the Astros and Marlins, Lee hit just .264 with nine home runs, but had 77 RBI in 147 games.
It seems like a little bit of a long shot, given that Lee did turn down the Yankees once.
But not too many teams are knocking on Lee's door in 2013, and the Yankees need firepower in the lineup.
Lee could start out the year as a DH and be a part-time first basemen to give Mark Teixeira some rest.
During Lee's prime, he was a 30-homer and 110-RBI hitter, while with teams the White Sox, Brewers, Rangers and Astros.
But Lee is far past his prime and not nearly worth the $18.5 million he made in 2012.
If spring training were to break today, there's a decent chance that either Matt Diaz or Russ Canzler could be the Yankees fourth outfielder.
I'd be all right with Diaz, since he has the experience and numbers against left-handed pitching.
But for a DH spot, if the price were right, I'd definitely give Carlos Lee a second look.
I bet if Cashman talked to Lee again and told him what his role for 2013 would be, he might actually be up for it.
Like I said earlier, the Yankees are running out of options and might need to consider a veteran like Lee for the lineup.
Stay tuned, Yankees Universe.
Read more New York Yankees news on BleacherReport.com