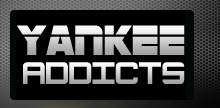 March 8, 2012 · Ken DeJohn · Jump to comments
Article Source: Bleacher Report - New York Yankees
Robinson Cano signed a $44 million contract extension with the Yankees prior to the 2008 season with a club option for 2012. After his ridiculous production over the beginning of the contract, it was a no-brainer for the Yankees to pick up his option this offseason.
Now that Cano will be entering free agency after the season, it's time for the Yankees to start thinking about how much they'll have to pony up to retain their star hitter.
For those who are wondering as to why Cano has yet to be extended this offseason, it's pretty simple—the Yankees have a policy of not negotiating new contracts during the season. With other issues more prevalent during the offseason, Cano's possible extension was brushed aside.
Even though there's no such thing as a guarantee in sports, it's a virtual lock that Cano will sign a huge mega-deal with the Yankees after the season.
The question is, though, how much will that mega-deal be worth?
Cano has been one of the most consistent hitters in baseball since his rookie season in 2005. In his seven seasons in the majors, Cano owns a career .308/.347/.496 line with 144 home runs, 621 RBI, 286 doubles and 1,263 hits.
Many believe that Cano will be baseball's next $100 million man, and it would only be fair to compare him to the most recent member of the club, Ryan Zimmerman.
Zimmerman also has seven Major League seasons under his belt, although he only played in 20 games in his first season.
He owns a career .288/.355/.479 line with 128 home runs, 498 RBI, 214 doubles and 947 hits. Granted, Cano has played in 208 more games than Zimmerman in his career, so his statistics are naturally better.
If they had played in the same number of games, Cano and Zimmerman would probably have similar numbers, with Cano likely having the upper hand in batting average.
Because of the similarities, it's a safe assumption that Cano will receive a contract similar to Zimmerman's recent six-year, $100 million contract extension with the Nationals.
I predict that Cano's will be worth slightly more, as he has a pretty clean injury history and has two top-six MVP finishes to his name. With a top-three finish in the MVP voting in 2012, Cano's contract could be worth much, much more.
It will be a priority for the Yankees to lock up Cano after the season, and I predict that a deal will get hammered out sometime in early December. Cano doesn't seem money hungry, and the Yankees want to get a deal done and move on to other issues (like resigning Curtis Granderson).
A six-year, $110 million deal is a likelihood for Cano, but don't be surprised if he gets up to $15 million more.
This deal would be great news for Yankees fans, as it would ensure that their young slugger is in pinstripes for the foreseeable future.
Read more New York Yankees news on BleacherReport.com