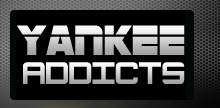 December 12, 2012 · Doug Rush · Jump to comments
Article Source: Bleacher Report - New York Yankees
The Yankees have their starting right fielder for 2013.
Craig Carton of WFAN was the first one to report on Wednesday morning that the New York Yankees have brought back Ichiro Suzuki.
ichiro is ayankee for 2013

— Craig Carton (@cc660) December 12, 2012
Jon Heyman of CBS Sports and WFAN confirmed that the Yankees and Ichiro are working out the structure of the deal.
Ichiro and yankees just working on structure of deal. Figuring out if it'll be 1 yr, 1 yr plus vesting or possibly even 2 yrs

— Jon Heyman (@JonHeymanCBS) December 12, 2012
What's interesting about that is if the deal is in fact for two years, Ichiro has a chance to make history while with the Yankees.
Currently sitting at 2,606 hits, Ichiro could potentially have a shot at getting to 3,000 career hits.
Ichiro normally averages anywhere from 180 to 200 hits per season. In 2012, Ichiro had a career low 178 while playing for both the Mariners and Yankees.
The 39-year-old came to the Bronx in a late July trade after Brett Gardner's elbow injury got worse and the regular left fielder couldn't return until September in a limited capacity.
In 67 games for the Bombers, Ichiro hit .322 with five home runs and 27 RBI while stealing 14 bases and played both left and right field.
So now with Ichiro back in the fold, this should end any potential rumor involving Josh Hamilton and the Yankees, especially since the Yankees are trying to get under the $189 million mark for their payroll by 2014.
And with Ichiro back, plus Kevin Youkilis signed for third base and Andy Pettitte, Mariano Rivera and Hiroki Kuroda signed, I can see the Yankees turning their attentions to bringing back Raul Ibanez.
It's another good signing for the Yankees, who didn't have to break the bank to get the Japanese star back in pinstripes.
Stay tuned, Yankees Universe.
Read more New York Yankees news on BleacherReport.com