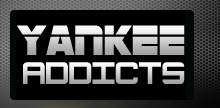 December 19, 2012 · Doug Rush · Jump to comments
Article Source: Bleacher Report - New York Yankees
The biggest postseason hero from October could be Bronx bound again.
There was no player on the Yankees more popular in the month of October than Raul Ibanez.
His three clutch postseason home runs etched his name into a history that only a select few get to be a part of.
According to George King of the New York Post, the Yankees are having discussions about bringing Ibanez back for 2013.
Bryan Hoch of MLB.com also confirmed that the Yankees are talking with Ibanez's representatives about a return to the Bronx.
Raul Ibanez discussing return with the Yankees wp.me/p1rXvG-8Xig

— Bryan Hoch (@BryanHoch) December 19, 2012
Ibanez hit just .240 in 2012, but had 19 home runs and 62 RBI in 130 games for the Yankees. Most of his home runs, however, came in the sixth inning or later in key situations.
Of course, there were no bigger home runs than the ones he hit in October.
Two of them came in Game 3 of the ALDS against the Baltimore Orioles. The first one tied the game in the bottom of the ninth and the second one ended up being the game-winner in extra innings.
The other was a game-tying shot in the ninth inning in Game 1 of the ALCS against the Detroit Tigers.
The Yankees aren't the only team interested in Ibanez's services for 2013, as the Texas Rangers are reported to be eyeing him, according to Andrew Marchand of ESPN.
A few weeks ago, both the Seattle Mariners and Philadelphia Phillies were also linked to having interest in bringing back Ibanez.
After spending three seasons with the Phillies, Ibanez signed a one-year, $1.1 million deal with the Yankees to be their primary designated hitter.
However, with an elbow injury to Brett Gardner, Ibanez ended up playing quite a bit in the outfield.
If brought back, I think Ibanez would strictly be the team's DH, especially since Gardner is expected to be healthy for 2013 and the Yankees right now are in the market for a fourth outfielder to replace Andruw Jones, preferably a right-hander.
I know Texas and Seattle could really use him in their respective offenses, but considering Ibanez has stated how much he wants to return to the Yankees, I think he'll be back for one more season.
Stay tuned, Yankees Universe.
Read more New York Yankees news on BleacherReport.com