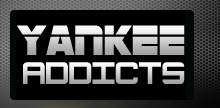 October 20, 2011 · Doug Rush · Jump to comments
Article Source: Bleacher Report - New York Yankees
On this website, we've had a lot of time to talk about free agency stories and what the Yankees should do for the 2012 season.
We've talked a lot about pitching and a little about hitting, but not much.
And I'm also a little surprised I haven't seen one Albert Pujols story yet on this page. Maybe it's me, but I thought I would see more from others.
So I guess I will have to be the one guy who discusses Pujols on here. I mean, why not? Not like the Yankees got a lot going on today, except for some vacation plans and rounds of golf in Florida.
The best player in the game will be a free agent once the World Series is over. Whether the St. Louis Cardinals win or lose, Pujols will be a free agent.
The Cardinals get five days of exclusive rights to negotiate with him, and depending on how they do against Texas in the World Series, St. Louis will need every bit of advantage they can.
Because once Pujols hits the open market, it's anyone's game for him.
Now, for the last month, every time any of you went to a story, you saw side stories from other places, and one of them on here was done by Jeffrey Beckmann wondering what kind of odds every team had to land Pujols.
That story alone has drawn over 143,000 reads, so kudos to Beckmann on a story well done.
In it, he gave the Yankees the fourth best chance with seven percent odds to land Pujols.
Is that too high? Too low? Not enough? Honestly, I'm not sure.
Now, back on Jan. 4, 2010, before a lot of you were even knew this website even existed, I wrote a story addressing the rumors of Pujols to the Yankees in 2012.
At the time, I said it would be highly unlikely that the Yankees would get Pujols, and that was after the Yankees had just won the 2009 World Series.
Almost two years later, here were are, with Pujols about to be a free agent.
But in this story, we're going to see if it makes sense for the Yankees to even think about pursuing Pujols.
Lets get started.