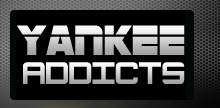 November 18, 2011 · Joe Acampado · Jump to comments
Article Source: Bleacher Report - New York Yankees
It takes a lot to walk away from a game you love, especially if you think you still have something left.
That's the decision Jorge Posada has to make now. Does he go out for one last hurrah? Or does he walk away now, satisfied with what he's done?
That is never an easy decision.
Posada can walk away with his head held high, or he can be pushed into retirement.
It's hard to see a player—especially a fan favorite who meant so much—be unable to play at a high level anymore. However, I'd rather have that player leave on a high note and with dignity instead of trying to comeback and prove something.
Posada even said himself he sees no chance of him returning to the Yankees.
And so, ladies and gentlemen, the time has come for Jorge Posada to walk away from baseball. Here are the reasons why.