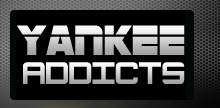 November 23, 2010 · Matt Goldberg · Jump to comments
Article Source: Bleacher Report - New York Yankees
Cliff Lee of the Texas Rangers (at least for now) is the prized free agent pitcher heading into the 2011 season.
And perhaps the biggest prize of all free agents.
Where will he wind up and, presumably, pitch for the next five or so years? It appears to be a two-horse race between the Rangers and the favored New York Yankees.
The 32-year-old southpaw is projected by many to be able to command something in the vicinity of 5-year at a total of $110 million or so. He may insist on, and receive, a six-year contract in that same $20-22 million neighborhood.
Nice neighborhood, by the way.
Any way you phrase it, there is a lot of risk involved in handing out that kind of long-term dough for any pitcher—especially a pitcher in his 30s who missed several starts this year due to injuries, however minor.
Regardless of whether he stays in Texas, goes to New York or plays (however improbably) for someone else, I project that Lee is a good risk—both performance-wise and health-wise.
What follows is a power ranking of 10 reasons to support this premise.