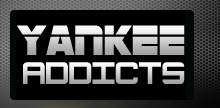 December 30, 2011 · Brian Buckley · Jump to comments
Article Source: Bleacher Report - New York Yankees
When the Boston Red Sox sent George Herman Ruth to the New York Yankees in 1920 for approximately $200,000, the deal made a lasting impact on the clubs for years to come. If New York had exchanged Joe DiMaggio for Boston's Ted Williams in 1949, the trade could have drastically turned the baseball landscape upside down.
With that being said, the two clubs drew a line in the sand in 1997 after their last trade occurred. Once catcher Mike Stanley was sent to New York for Tony Armas and Jim Mecir, the teams did their best Roberto Duran impression and said "no mas" between themselves.
As emotions and revenues increase every year, the possibility of a brokerage between the Sox and the Yanks seems as likely as an Obama/Boehner New Year's Eve gala.
Conversely, if Brian Cashman and Ben Cherington were to go behind closed doors and discuss barters, then what players would be modifying their zip codes?