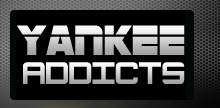 April 28, 2009 · Gregory Pearsoll · Jump to comments
Article Source: Bleacher Report - New York Yankees
Things in Yankee land are not very good right now.
The New York Yankees are 9-10, and are really struggling to score with RISP. Meanwhile, their AAA affiliate, the Scranton Wilkes Barre Yankees are a strong 12-2 to start the year.
Unfortunately, it has been led mostly by some of the best AAAA talent money can buy, and much of it will not translate to the major leagues, and shows the Yankees' lack of depth in the minors for major league talent.
Here are some of the players doing well, and why they will or will not help the Yankees:
Shelley Duncan: 6 HR, 22 RBIs, .364 AVG.
Since the Yankees badly need position players, this is the mostly likely player to be promoted—if he were on the 40 man roster. Unfortunately, he proved to be a flash in the pan in 2008, hitting .175 and getting designated for assignment. With Damon's injuries, he should be recalled to get some OF depth. The problem is, he would require one of the pitchers, or possibly Juan Miranda, to be DFA'd off the 40 man to be added.
Juan Miranda: .303 AVG, 5 HR, 21 RBIs
A very likely recall, as he is on the 40-man, and Swisher is currently in the outfield until Xavier Nady returns. Unfortunately, he can only play 1B, which is blocked by Teixiera, and Miranda needs regular playing time to be successful.
Todd Linden
Another AAAA player, as he has had no success in the majors, as has played in Fresno, Buffalo, Sacremento, and S-WB. His inability to hit major league pitching keeps him from having a chance. He was mostly brought in due to Fernando Tatis' comeback success last year.
John Rodriguez
See above, another AAAA player. Did not hit well enough to stick in Tampa, St. Louis, or Cleveland.
Angel Berroa
Why is he with the big club? Are the Yankees that beaten up that they have to go with this retread? He wasn't great in KC or LA, mostly due to his inept defense and failure to hit well after 2003.
Eric Duncan
Failed prospect of the Yankees, strikes out too much, and cannot play well defensively. Almost as bad as Angel Berroa. With the Yankees desperate in depth, it is surprising he didn't get a look.
Doug Bernier
Can't hit, and is only expected to see time if Jeter or Cano get injured.
Justin Leone
More AAAA talent, is not currently hitting well, and Angel Berroa was considered over him.
Neither Kevin Cash or Chris Stewart are major league catchers, and would represent a significant downgrade if Posada or Molina end up on the DL. Cervelli, their closest prospect is currently in AA.
There is one good prospect though:
Austin Jackson: .340 AVG, 10 RBIs
Good start, but is at least a full AAA season away from the majors. Expect to see him in September, and hopefully be successful, so the Yankees won't have to blow money on Matt Holliday(who stinks in Oakland, and wouldn't be a help to the Yankees now) and Jason Bay(who is most likely to stay in Boston long-term.)
It is especially noteworthy that the Yankees are paper-thin on 3B depth. One more injury at 3B will force them to use an unproven and undeserving player like Eric Duncan, Luis Nunez or Carlos Mendoza, because Leone and Kevin Russo are on the DL.
On the positive side, there are some good arms the Yankees should consider, as Edwar Ramirez, Jose Veras, and Damaso Marte are struggling.
Some of them include:
Mark Melancon(is it Me-lan-con or Me-lanc-on? Please clarify.)- 2-0, 0.00 ERA
Let's hope he sticks in the Show. For the time being, he's only here until Bruney comes back, and I don't know if Girardi wants to cut Veras, Marte, Ramirez or Albaladejo.
Brett Tomko- 0.96 ERA
The Yankees desperately need a long-man, and this is the perfect guy for it.
Steven Jackson- 2.84 ERA
Surprisingly, the Yankees never used him when he was in the Majors. Why?
David Robertson- 0.00 ERA
Currently in the show, but faces demotion due to bad roster management, as they need at least one more position player and Phil Hughes up today.
It is nice to see the AAA squad of the Yankees succeeding, but it is almost unlikely it will translate in the big leagues.