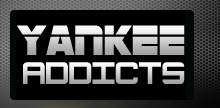 February 24, 2012 · Ken DeJohn · Jump to comments
Article Source: Bleacher Report - New York Yankees
Michael Pineda has shown great progress so far in the early stages of Spring Training. Considering he was acquired from the Mariners for the Yankees best hitting prospect in years, Pineda's progress will help to make stomaching the loss a little bit easier.
Pineda reportedly showed up at Yankees camp about 10 pounds overweight, but he also acknowledged the fact and he claims that his goal is to lose that 10 pounds by the start of the season.
Despite being just 23 years old, it's already evident that Pineda has a good head on his shoulders. He's made a mistake, albeit a small one, and he's already working towards making it better.
Granted, Pineda could learn a little something from fellow overweight starter CC Sabathia, who has pitched "overweight" for most of his career, and has never had problems with staying healthy or staying productive.
In that regard, Pineda's career might have benefited just by being able to be Sabathia's teammate. Through having Sabathia as his mentor, Pineda will learn how to pitch and condition himself like a big man.
Pineda's willingness to lose weight is a great sign for the Yankees, but there's more to be impressed about here.
According to several reports out of the Yankees camp, manager Joe Girardi was very impressed with Pineda's explosive fastball and sharp break on his slider so early in Spring Training.
Despite the progress with his slider so early on in Spring Training, both Girardi and General Manager Brian Cashman have made it known that Pineda is not yet the Yankees No. 2 starter in the rotation.
Pineda has all the potential in the world, but he'll need to make sufficient progress with his changeup this spring to move up the ranks in the Yankees rotation. Pitching coach Larry Rothschild suggested a grip-change for Pineda, and he has been working hard with the young right-hander to make the pitch work.
There aren't many super-successful Major League starters that operate with just two pitches, so the development and progression of this pitch for Pineda will be essential to his potential success in 2012.
Catcher Russell Martin has already seen progress with the pitch, and Pineda seems focused on developing the pitch into a reliable part of his arsenal.
If Pineda meets the two goals that he has so far made for himself in the early days of Spring Training (losing the 10 pounds and improving his changeup), all signs point to him having a successful season in 2012.
He averaged just over a strikeout per inning in 2011 (173 K's in 171 innings), so adding another pitch to his arsenal may help to increase his strikeout totals even more.
Pineda is still a very young talent, so the Yankees will be careful with how much they use him next season. If he remains healthy, expect Pineda to pitch in about 180 innings, while recording about 185 to 190 strikeouts.
With a new pitch at his disposal, and a much better offense than the abysmal one he had to deal with last season in Seattle, expect Pineda to improve upon his 9-10 record of last season.
I predict a 15-9 record from him, while posting an ERA around 3.68.
All these predictions rest on his ability to progress his changeup, though.
Pineda seems focused early on, and that should give the Yankees and their fans yet another reason to be excited for the upcoming season.
Read more New York Yankees news on BleacherReport.com