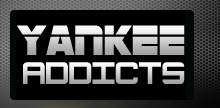 June 12, 2009 · Patrick Villanova · Jump to comments
Article Source: Bleacher Report - New York Yankees
While the Mets and Yankees will square off tonight in the first game of the 2009 Subway Series, the field of newly built Yankee Stadium is not the only thing that the two teams will be sharing.
Both New York squads find themselves in similar situations—looking up in the standings at their arch rivals. The Mets and Yanks endured a cold slap of reality at the hands of their rivals this week, as the Philadelphia Phillies and Boston Red Sox proved that they are simply better than the Mets and Yankees.
While this notion certainly has floated around in the heads of New York fans throughout the season, it was confirmed this week when the World Champion Phillies strolled into Citi field and took two of three from the beleaguered Mets, coming back in both wins.
As for Joe Girardi's squad, if the Red Sox had not been in the heads of the Yankees before, consider them now at home there, resting comfortably with their feet up and an 8-0 against New York this season.
The Yankees found out just how good the Boston bullpen is this week and just how gritty the Sox lineup is, as the Bombers' nemesis capped a three-game sweep with a three-run rally in the bottom of the eighth last night.
The Yankees proved once again that they cannot hit elite pitching, getting only one hit off of Josh Beckett on Tuesday night. Then, the Yanks fell in two close games, including last night's heartbreaking 4-3 loss.
The Mets, who despite losing two of three this week to Philadelphia, still have a winning record against their NL East rival. But like the Yankees, the Mets also had a bitter wake-up call this week, when Chase Utley, Raul Ibanez and company proved that they are tougher, have a better lineup (regardless of Met injuries), and can pull out the close games that the Mets seem incapable of winning.
The Mets jumped out to leads in all three games, but surrendered a three-run lead Wednesday night and a one-run advantage last night, reaffirming the idea that they are chokers in the big spot, especially against Philly.
You have to wonder, like the Red Sox are to the Yankees, are the Phillies now entrenched in the Met players' heads? No matter how well the Mets appear to be playing against Philly early, their bats fall silent in the latter innings, while the Phillies' bats heat up, a la Utley and Ibanez's extra inning game-winning home runs the last two nights.
It is now clear that both the Mets and Yankees are not yet on the level of the Phillies and Red Sox. While they'll go at each other tonight in the Bronx, with city bragging rights on the table, the real challenge for both teams lurks within their own divisions.