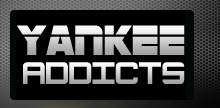 May 25, 2009 · Neil Powell · Jump to comments
Article Source: Bleacher Report - New York Yankees
As I grow a little bit older, I've begun to realize what most people my age start to.
There are now people in our past that have gone on to a better place and we are left with just the memories of them.
Memorial Day can start to really take meaning on all levels of personal importance.
I reflect on memories of my grandmothers, aunt, and my grandfather.
"Gramps" I called him and he was my main man.
I named my son after him and he wears the name proudly.
I'll admit, sports captivate my soul.
It's the ultimate and only legitimate "reality" TV there is.
Gramps had a lot to do with this passion.
He usually had the Kansas City Royals' games on in the car and would tell me of the time he and his friends drove to St. Louis to watch the Cardinals play the Yankees in the 1942 World Series.
He also told me many stories about his favorite players Dizzy and Daffy Dean.
We kicked it almost every Sunday in his backyard and watched the Kansas City Chiefs' game on his little television.
I was with him as we watched the 1985 Royals win the World Series and he was the first one I called in 1988 when the Kansas Jayhawks won the NCAA Championship.
He would come to as many of my games as a youth as he could to cheer me on and a compliment from him after the game was worth its weight in gold.
I hit my first legitimate home run in little league in the fourth grade and rushed over to his house to give him the ball.
Actually that ball is with him eternally as he was buried holding it in his hand.
He's with me everyday.
Sports can relay many messages to many people.
I coach my son's little league team and last year became good friends with one of the boys on the team and his family.
He lost a relative and to honor him, he wore a black band around his jersey sleeve.
Many players point to the sky after making a big play.
The majority do so to either reflect on their religious beliefs, or to pay homage to someone above.
Who could forget the classic Monday Night Football game that Brett Favre had after his father passed away.
It was amazing.
For eleven years I had a little Shih Tzu named Elway after the greatest quarterback to ever play the game.
He was man's best friend personified and I actually taught him to chase his tail when the Broncos scored a touchdown.
I remember Payne Stewart, my favorite golfer and his clutch put to win the 1999 U.S. Open.
Or my favorite baseball player Kirby Puckett and his passion for playing the game.
I remember Derrick Thomas, Hank Gathers and Darrent Williams among others.
My father lost his closest friend earlier this year. He was my friend too and I will pull for his son just as he would have as he tries to make the Indianapolis Colts as a rookie free agent this season.
This article is a tribute to those I can no longer have a conversation with, but will never forget the ones that we had.
Thanks for the memories.