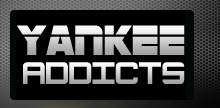 June 17, 2009 · Heartbeat Of The Bronx · Jump to comments
Article Source: Bleacher Report - New York Yankees
It has been virtually impossible to overlook the offensive production supplied by Mark Teixeira and Robinson Cano in the middle of the Yankee lineup.
Teixeira is currently on pace for 53 HR, 145 RBI, 119 R, and .618 SLG. These would all be career highs for the new pinstriped addition, as he has become as likely an MVP candidate as any player in MLB.
Cano has rebounded fantastically from a nightmare 2008 campaign—on pace for 28 HR, 104 RBI, 111 R, 41 2B, and just 51 K. All of these production statistics would set or tie career highs for him, and the 51 strikeouts would represent his all-time low.
The way the two stars are producing in other ways, however, could lead to very high praise after season's end.
It is how these men are handling the leather—as opposed to the lumber—that is earning them recognition across Major League Baseball. Teixeira and Cano's "Midas touch" on the defensive end could spell a pair of Gold Gloves in their immediate future.
Already a proud owner of the award, Teixeira has somehow elevated his defensive prowess to new heights.
The new Yankees 1B has erased the clumsy years of Jason Giambi from fans' minds, helping them to reminisce about Don Mattingly and Tino Martinez playing next to flawless defense at the position.
Teixeira has yet to make an error in 60 games played at first base.
His aerial acrobatics and controlled dives have seemingly saved as many runs as he has produced, and he has shown a knack for throwing with accuracy and strength from his knees—or even his stomach.
Teixeira saves a teammate's errant throw nearly every single night, whether with a perfectly timed stretch or a scoop even Yankees sponsor Turkey Hill would be proud of.
While "Big Tex" has been jaw-dropping at first base, he has been far from alone on the right side of the infield. Cano has partnered with Teixeira in creating the most dynamic defensive combination that New York has seen in quite some time.
It appears the Yankees-Red Sox rivalry has added yet another wrinkle, as they will have to wrestle the awards away from Kevin Youkilis and reigning MVP Dustin Pedroia.
While Youkilis has played equally as well at the position thus far in 2009, he has also played 15 fewer games at 1B than Teixeira—putting "Big Tex" slightly ahead in terms of deservingness.
In the second base war, however, Cano has actually out-defended Pedroia. Cano has just three errors, a .989 fielding percentage, and has turned 41 double plays. Pedroia has committed four errors, turned just 36 double plays, and has a .985 fielding percentage.
By no means has it been a stark contrast in skill, as Pedroia is as consistently good as anyone in the league. To this point in the season, Cano has simply supplied a few more karats of gold.
Though I believe Bill James' new statistical analysis to be a farce along with the rest of sabermetrics, Cano does also have a better range factor at 4.50 than Pedroia's 4.40.
No players were more responsible for New York's record-breaking errorless streak than Cano and Teixeira, and the publicity generated from the accomplishment should shift Gold Glove votes in their favor.
It remains to be seen if the consistency and impact can continue for 162 games, but it is undeniable how important their glove work has been to the Yankees' success.
Every ball lifted into the air to the right side of the stadium may be ending up in the seats, but any ball on the ground is ending up in Cano or Teixeira's glove.
Also seen at: Heartbeat of the Bronx