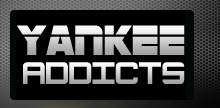 June 15, 2013 · Alex Ballentine · Jump to comments
Article Source: Bleacher Report - New York Yankees
Mark Teixeira can add another hurdle to his difficult 2013 season. It appears the New York Yankees slugger may be forced out of the lineup with a wrist injury.
UPDATE: Tuesday, June 18, at 3:45 p.m. ET by Sam Westmoreland
The Yankees have confirmed the bad news reported by Murti earlier in the day, announcing that Mark Teixeira is on the 15-day DL once again.
—End Update–
UPDATE: Tuesday, June 18, at 2:13 p.m. ET by Tom Kinslow
More bad news for the Bronx Bombers as it's another setback for Mark Teixeira and his ailing wrist, according to Sweeny Murti of WFAN sports radio:
—End of update—
UPDATE: Tuesday, June 18, at 11:09 a.m. ET by Brandon Galvin
Brian Cashman responded to hitting coach Kevin Long's comments regarding Mark Teixeira's bothersome wrist injury. CBS New York has the latest on the Yankees:
Long said Saturday night that he wasn't sure if Teixeira's right wrist 'has been right' since coming off the disabled list on May 31.

'It's alarming in the fact that K-Long would say that to the group of the reporters, but he never said that prior to that," Cashman said. "This is, a lot of times, how things work out when things go bad, things get said. If K-Long felt that way, he should have been saying that from Day 1, but we never heard that from K-Long."

Long said Teixeira was having more trouble swinging from the left side of the plate. He never reported the issue to team officials or the Yankees medical staff, Cashman said.
—End of update—
UPDATE: Monday, June 17, at 3:11 p.m. ET by Brandon Galvin
Discouraging news for Yankees fans as Mark Teixeira's recent wrist injury could force him back to the disabled list. MLB.com's Bryan Hoch has the latest from Yankees general manager Brian Cashman.
—End of update—
Bill Baer of NBC's Hardball Talk reported that Teixeira was pulled from the June 15, Saturday night game against the Los Angeles Angels.
As Meredith Marakovits of the YES Network tweets, manager Joe Girardi said that Teixeira's swing has been impacted by a wrist injury.
According to WFAN reporter Sweeny Murti, Teixeira will see a doctor on Sunday about his aggravated wrist.
Teixeira's latest injury news is disheartening for fans hoping that he would get back on track. The first baseman has struggled with injuries all season, only playing in 15 games of 53 since returning on May 31 from a partially torn tendon sheath in the same wrist that is forcing him to miss time once again.
He hasn't been terribly effective since his return. The two-time All-Star is hitting just .157 on the season with three home runs and 12 RBI. This is a stark contrast from the .251/24/84 line that he posted last season.
Teixeira was replaced in the game by David Adams at first. The 26-year-old is hitting just .216 with two home runs and seven RBI in 74 at-bats on the season.
The Yankees could desperately use a shot in the arm offensively. New York is just 21st in MLB in slugging percentage at .385 and 19th in runs with just 262, so far. Brett Gardner leads all Yankees batters in average at .283.
The Yankees are now in third place in the AL East thanks in large part to a pitching staff that sports a team ERA of 3.65. Just 3.5 games behind the division-leading Boston Red Sox, the team may have to find more production without Teixeira in the lineup again.
Read more New York Yankees news on BleacherReport.com