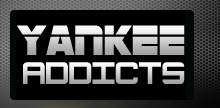 February 3, 2013 · Kenny DeJohn · Jump to comments
Article Source: Bleacher Report - New York Yankees
The New York Yankees have been synonymous with massive contracts for as long as we can all remember. But large contracts worth unreasonable amounts of money have been especially prevalent over the past several seasons.
First, it was Alex Rodriguez and his $275 million contract—and we all know where that's gotten him and the Bombers.
Rodriguez definitely set the precedent for obscene MLB contracts over the past several seasons, and the Yankees broke the bank for yet another star prior to the 2009 season.
On a $180 million contract spanning eight seasons, first baseman Mark Teixeira was brought to the Bronx to help propel the Yankees to the team's first World Series championship since 2000.
Granted, he did just that in his first season wearing pinstripes.
His strong season was essential to the team's success. He hit .292/.383/.565 with 39 home runs and 122 RBI. He finished second in AL MVP voting while also taking home a Gold Glove and the Silver Slugger award for AL first basemen.
While Teixeira has still been an above-average offensive player since that season, he has come nowhere close to matching his 2009 production. In the three seasons since, he's posted batting average of just .256, .248 and .251, respectively. He did post home run totals of 33, 39 and 24, respectively, which shows that his power is still there.
The problem is, Teixeira continues to age, and his skills at the plate seemingly continue to diminish.
On February 1, Daniel Barbarisi of the Wall Street Journal published a story with quotes from Teixeira acknowledging his semi-lack of value:
Agents are probably going to hate me for saying it. You're not very valuable when you're making $20 million. When you're Mike Trout, making the minimum, you are crazy valuable. My first six years, before I was a free agent, I was very valuable. But there's nothing you can do that can justify a $20 million contract.
To some extent, he's right.
It's extremely difficult to justify giving a guy that much money per season. One can also argue, though, that Teixeira's 2009 season was worth it. He produced exceptional numbers while also leading his new team to a World Series championship.
The age-old argument of paying for championships then comes into play, but I'm of the belief that winning the World Series should come first before considering money spent.
Since that season, Teixeira has been worth nowhere near $20 million per season.
While he's a stellar defensive first baseman, the Yankees paid him to produce at the plate. And when he's not hitting like he should, the Yankees lose a dynamic force in their lineup.
Admitting to his decline is a nice, refreshing story in baseball. Most former stars—cough, A-Rod, cough—never admit to hit and keep giving fans hope for the next season (or the next, or the next).
Teixiera's admittance to decline could be a sign of things to come for the popular Yankee. Maybe he'll finally give in and adjust to hitting the ball the other way in order to beat the shift, or maybe he'll stop looking to pull absolutely everything over that short porch in right field at Yankee Stadium.
Whatever the case may be, the Yankees can only hope that Teixeira can reestablish himself as a guy who can hit near .280 with 20 home runs instead of 30. He'd still be knocking in runs, but he'd be more valuable as a guy that moves runners along more frequently with hits rather than groundouts.
If Teixeira wants to earn back some of the support he lost after his down 2012 season, his first step should be adjusting his game. Maybe this admittance is a precursor to just that.
Read more New York Yankees news on BleacherReport.com