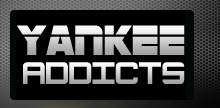 June 10, 2013 · Brandon Mauk · Jump to comments
Article Source: Bleacher Report - New York Yankees
The New York Yankees came off their worst stretch of the season last week: The Rays lit up CC Sabathia, the Mets completely swept the Yankees in an embarrassing four-game set, and the Red Sox yet again took another series in the Bronx.
On Monday night, it seemed their fortunes began to turn around. Longtime veteran Andy Pettitte made his return from the disabled list, and freshly returned first baseman Mark Teixeira made his statement.
Teixeira lifted his first homer of the season in just his fourth game, a grand slam that just got over the short porch in right off of Indians ace Justin Masterson. Tuesday, he hit another homer, a three-run shot from the right-handed side of the plate against Scott Kazmir.
On Thursday in Seattle, he followed Robinson Cano's three-run homer with a solo shot of his own. Despite having just six hits in 36 at-bats on the season, four of them are for extra bases. He also has four walks in 40 appearances at the plate.
Pettitte was sharp early on but couldn't get out of the fifth inning, surrendering four runs in Monday's win. On Saturday in Seattle, he was much better: 7.1 innings, three hits, one run, zero walks and six strikeouts. All on 85 pitches. He probably could have at least finished off the eighth if Joe Girardi didn't have a short leash on him given the injury.
That win on Saturday was Pettitte's 250th of his career. At the same time, the Yankees drafted his son Josh out of high school in the 2013 MLB draft. Although Josh still plans on playing at Baylor, it's a great gesture by the organization to one of it's greatest and classiest players.
Right now, Pettitte's importance to this Yankees team continues to be understated. If they want to make the playoffs, they need him to be healthy and continue to dazzle. So far, he is 5-3 with a 3.82 ERA and a 108 ERA+ in 61.1 innings. Can't really ask for any more consistency out of your 41-year-old No. 3 starter.
In Pettitte's last three seasons with the Yanks (2010, 2012-2013), he is 21-10 with a 3.29 ERA and a 128 ERA+. However, he has often been hit with injuries, limiting him to just 265.2 combined innings over those three seasons.
In 2010, he missed two months in the second half with a groin injury. The Yankees would struggle and lose the division to the Rays, as with his absence CC Sabathia was the team's only consistent starter in the second half. Pettitte returned that year to pitch well in two postseason starts against the Twins and Rangers.
In 2012, Pettitte again was pitching some of the best innings of his career but was again knocked out for over two months due to a freak injury. He broke his ankle on a comebacker but returned in September and pitched well in two playoff starts (again) against the Orioles and Tigers.
Again the No. 3 starter, but this time on a team filled with injuries, the Yankees will need Pettitte to be healthy this season. If he continues to be this consistent, it'll help the Bronx Bombers.
Teixeira, on the other hand, hasn't been entirely as consistent as Pettitte's been. Since joining the Yanks in 2009 with an eight-year deal, his averages have declined every season. With the injuries to other hitters (Derek Jeter, Alex Rodriguez and twice to Curtis Granderson), his health is also very important. Having him in the lineup everyday again will help Robinson Cano, who is four for his last 30.
Not only does Tex need to be healthy, but he needs to start hitting. The Yankees are currently eighth in the AL in runs scored and 13th in the league in OPS+. They are currently on pace to score just 648 runs, their worst output since 1990 (not counting 1994, that is). However, given that guys like Vernon Wells, Lyle Overbay, Ben Francisco, David Adams, Reid Brignac and other washed-up vets or scrubs have been given regular at-bats, that should be no surprise.
That's where Teixeira comes in. As he and Kevin Youkilis are getting back in the groove, Overbay, Brignac and Adams will be either getting less and less at-bats or off the team. But if the Yankees are going to stay in the AL East race, they will need to start mashing the ball. It starts with Teixeira.
Mark Teixeira needs to carry the offense and Andy Pettitte needs to help lead the pitching staff. Right now, they are probably the two most important players for your New York Yankees.
Read more New York Yankees news on BleacherReport.com