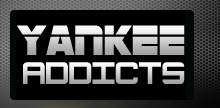 April 29, 2009 · Kevin Rozell · Jump to comments
Article Source: Bleacher Report - New York Yankees
(The Voice of Yankees Universe)
Mark Melancon ("Muh-LAN-son") has been one of the most hyped players within the Yankees organization over the past few years. It's well deserved though. The stats don't lie. In 2008, Melancon compiled an 8-1 record, with a 2.27 ERA, and 89 K's in 95 innings while playing for Scranton. In the small amount of time he has played this season in the minors, he was 2-0 with a 0.00 ERA and 17 K's in 10.1 innings.
He finally got the call up to the major leagues the other day with the bullpen in shambles. The loss of Brian Bruney in the bullpen gives the Yankees a big hole to fill, and many think Melancon can really help.
People hope he can have the same type of effect as Joba Chamberlain did in the bullpen. Obviously it's hard to bring anyone up from the minor leagues and expect them to live up to that, but you never know. He definitely has the stuff. Mark has an above-average fastball with command, a power curve, and has great makeup.
On Mark Melancon…
"This guy wants to compete and will not get rattled," minor league pitching coordinator Nardi Contreras said.
Melancon had a successful debut against the Red Sox in the last series. He recorded outs 1-2-3 very quickly in his first inning of work. In his second inning, he got caught up in a bases loaded jam, but he was able to get out of it without surrendering a run. His line was 2 IP 0.00 ERA 1H 1BB 1K.
———————————————————————————————————
If you haven't checked out our new message board out..you should. Feel free to sign up and start posting!