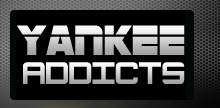 July 23, 2009 · Greg Riot · Jump to comments
Article Source: Bleacher Report - New York Yankees
After Don Larsen's perfect Game Five of the 1956 World Series, journalist Dick Young gained a certain degree of immortality himself, describing the feat: "The imperfect man pitched the perfect game."
One would hardly refer to Mark Buehrle of the Chicago White Sox (+275 to win the AL Central) as a "perfect man," though his resume, with a career record of 132-90, an ERA of 3.52 ERA, and four All-Star appearances under his belt, is already more impressive than that of Larsen's. At age 30, Buehrle might even be on his way to compiling some Hall of Fame numbers, if he doesn't follow through on the desire he expressed to quit the game at the end of his current contract in 2011.
That was the way he described it in February, when he reported to spring training. "People may say I'm full of it," said Buehrle. "I don't know. Maybe I am. But as I look at it today, I don't think you're going to see me in a baseball uniform for too many more years. I miss my family too much when I'm away."
Buehrle's perfect game, which was executed against the Tampa Bay Rays (+750 to win the AL East) on Thursday afternoon, was the 16th such gem since 1900.
Interestingly, 34 years passed between Charley Robertson's perfect game for the White Sox in 1922 and Larsen's magic moment, but in the last 25 years, no less than eight perfect games have been tossed. Buehrle's effort was 116 pitches long, in a game that lasted two hours and three minutes.
That's interesting to note, because this guy works extra fast—in fact, you could put up some interesting over/unders on the times of his games. The duration of Thursday's game was long for him, when you consider that no one reached base. In an April 2005 start against Seattle, in which he pitched a three-hitter, the game lasted just an hour and 39 minutes, from beginning to end.
It is also his second no-hitter in the majors, having previously blanked the Texas Rangers on April 18, 2007, in a game that was almost perfect. He had allowed one runner—Sammy Sosa—to reach base on a walk, but proceeded to pick Sosa off at first base.
Thus, Buehrle may be the only man in major league history to pitch two no-hit complete games where he faced the minimum number of batters. Only 24 pitchers in history have thrown more than one no-hitter of any kind.
The Rays were stung again by the left-hander, who now has an 8-2 record against them. Buehrle threw a one-hitter against Tampa Bay in 2001, which is the first year he was a regular member of the White Sox rotation.
If there was something about Buehrle before Thursday that was perfect, it may be his health. He has never been on the disabled list, which makes him very valuable to the White Sox, who have had to endure inconsistency in their pitching staff since winning the 2005 World Series.
Buehrle's classic couldn't have come at a better time for the Pale Hose, who climbed to within a half game of the Detroit Tigers (-150 to win the AL Central) with the win.
For a team six games back in the Wild Card race, capturing the division is quickly becoming essential.
This game also comes in the wake of some controversy surrounding the franchise, as former relief pitcher Jim Parque has made the admission that he took performance-enhancing drugs while playing in the Windy City seven or eight years ago.
In the locker room on Wednesday, Buehrle was joking around with a tape recorder, asking struggling closer Bobby Jenks, "Why have you stunk the last couple days?"
Whatever the answer, it was moot. He wasn't needed on Thursday, for sure.