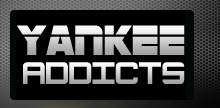 March 7, 2013 · Chris Schad · Jump to comments
Article Source: Bleacher Report - New York Yankees
Roughly a decade ago, there was a pitcher on the Los Angeles Dodgers named Eric Gagne.
Gagne built the longest streak in Major League Baseball history by converting 84 straight saves between the 2003 and 2004 seasons. To honor his dominance, the Dodgers flashed the words "Game Over" across the scoreboards at Dodger Stadium when he entered a game with a save on the line.
Looking back, that was just adorable.
That's because most baseball fans knew that the only time a closer coming on a field meant that a game was officially coming to an end was in New York.
Mariano Rivera has become one of the most feared closers in the history of Major League Baseball. That ride will end at the end of 2013 as Joel Sherman of the New York Post and others have stated that this will be Rivera's final season.
I can report #Yankees have 10 am press conf sked Sat at Steinbrenner Field at which Rivera is set to announce retirement after '13 season

— Joel Sherman (@Joelsherman1) March 7, 2013
It's been speculated for years how Rivera's career would be looked upon at it's conclusion. Now that we have a definite ending, we can take a look at how he compares to some of the other all-time greatest closers.
Rivera's regular season statistics are superb. His 608 saves are the most all-time, seven more than San Diego Padres great Trevor Hoffman.
Rivera also has one of the best WHIP's of all-time at 0.99. By comparison, Billy Wagner and Dennis Eckersley come in at 0.99, but relievers such as Goose Gossage (1.19), Lee Smith (1.25) and Rollie Fingers (1.13) find themselves in another area code.
Wins above replacement is also an area in which Rivera has excelled. Only Hoyt Wilhelm (47.4) and Dennis Eckersley (58.6) come close to Rivera's 52.7.
That number becomes more impressive considering Wilhelm played during the 50's and 60's and Eckersley spent the first 12 seasons of his career as a starter.
The regular season statistics are nice, but nothing does more for building a resume toward greatness than winning championships.
Rivera has done that with the Yankees; he's been a vital cog on five World Series champions. He's also made an appearance in the postseason in 15 of his 16 seasons.
With numbers like that, it's expected that Rivera would lead MLB in quantitative stats such as postseason saves (42) and games entered for a reliever (96).
Rivera's post-season numbers include an insane 0.70 earned run average and a 0.75 WHIP. In fact, Rivera was so dominant at times that the Yankees routinely called upon him in the eighth inning to secure a victory.
Other great closers have seen their games crumble in the month of October.
Wagner's 2.31 regular season ERA exploded to 10.03 when it mattered the most, and Lee Smith (8.44 ERA) struggled in his two postseason appearances.
So Rivera being able to keep stats that low despite appearing in a slew of games is impressive.
Say what you want about Rivera being a beneficiary of playing on great teams, but even on great teams you still have to convert when your number is called.
Rivera has done that with a career 89% conversion rate.
With his amazing cutter leading the way, Rivera has cemented his spot in Cooperstown before his final season has even begun.
There have been great closers in the history of baseball, but nobody slams the door on opposing teams like Mariano Rivera.
Read more New York Yankees news on BleacherReport.com