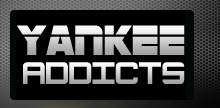 April 24, 2009 · Akash A · Jump to comments
Article Source: Bleacher Report - New York Yankees
Sorry Mariano but once again, you have failed to do your job against the Boston Red Sox. Joe Girardi, your manager, put his faith in your hands. All you needed to do was get four outs (two of them against the bottom hitters of the Sox' lineup) while holding a two-run lead. Fail.
All that happened was that Jason Bay smashed a two-run shot over your head and into the monster seats. Are you just afraid of the Sox? It certainly seems like it, because you've has blown twelve saves against the Boston Redsox, more than any other team you have faced.
With any other Major League club, Mo time means go time. That is, when Rivera's pitching, fans might as well just leave, 'cause he's lights out. I borrow a word from Dwight Schrute's dictionary when I say: "False." In Boston, Mo time means "YES! We can still win this thing!"
Do I think Mariano Rivera is a great pitcher? Yes, I absolutely do, but when it comes to facing Boston, he just cannot seam to make the big pitch. Thanks to him, the Sox have won game one of the season series between us and the Yanks.