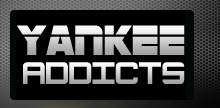 March 4, 2010 · Greg Fertel · Jump to comments
Article Source: Bleacher Report - New York Yankees
Because the fifth outfielder is just that important.
The two players are both right-handed hitters, but that is about the extent of their similarities. They both have their fair share of strengths and weaknesses, but the Yankees only have room for one on their roster.
Marcus Thames's biggest strength is his power. For his career, he has hit a home run once per every 15 at-bats and he has an ISO of .248 which is well above average. On the other hand, Jamie Hoffmann hit one home run for every 60 minor league at-bats with a career minor league ISO of .118.
What's more striking are Thames' splits versus lefties. It has been well documented that the Yankees could use a lefty-masher on their bench to compensate for the relative weaknesses of Curtis Granderson and Brett Gardner.
While Gardner has not shown much of a platoon split over the course of his career, the Yankees must see something there because they have made the habit of hiding him versus left-handed pitching.
For his career, Thames has a .360 wOBA against lefties as opposed to a .323 wOBA versus righties. This is a stark difference that makes Thames a legit pinch hitting option against left handed pitching.
If the Yankees are looking for a player they can use to pinch hit, back up the corner outfield spots and first base, Thames is the guy they will choose.
Hoffmann, on the other hand, offers a different array of skills to the team.
Baseball America just named him the best defensive outfielder in the Yankees system after consistently ranking him the best in the Dodgers system. This is a clear difference from Thames, who has been worth -15.8 runs in the corner outfield over his career and has a career outfield UZR/150 of -9.5.
Hoffmann is an unknown when it comes to hitting at the major league level, though. CHONE predicts an unacceptable .304 wOBA for him, which is not good enough to justify giving him a roster spot.
Whichever of these two players doesn't make the 25-man roster will be gone at the end of spring training. The main difference is that if the Yankees make Hoffmann their fifth outfielder and he remains with the team for the entire 2009 season, they would be able to retain him for the following five seasons.
If the Yanks decide to hold onto Thames, they will lose team control over him after the 2010 season. So what it really comes down to is what the Yankees see in Hoffmann. If they see a player who will be slightly less valuable to Thames in 2010, but one who can provide value for multiple seasons, they'll keep him.
If they have soured on Hoffmann a bit since the Rule 5 draft and think he doesn't provide enough offense to be a part of their bench, they'll try to work out a deal with the Dodgers to keep him, or send him back to Los Angeles while adding Thames to the 25-man roster.
The choice is up to the Yankees, but I think I'd lean towards keeping Hoffmann. Thames would not definitively opt out, seeing that he could see an opportunity with the Yankees after a single injury to an outfielder or due to ineffectiveness from Hoffmann.
Either way, the winner of this battle is just going to be the fifth outfielder. If one of them ends up playing a major role in 2010, that means injuries have befell the Yankees and would not be a good sign.
Read more New York Yankees news on BleacherReport.com