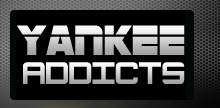 June 6, 2009 · Blake Broglio · Jump to comments
Article Source: Bleacher Report - New York Yankees
What is wrong with baseball these days? Has this era become accustomed to the evils of Performance-Enhancing Drugs? Have players become rather covetous, no longer playing for the love of the game? Has baseball just lost itself overall?
Let's face it: Baseball is not what it was.
Find yourself a non-fiction book describing baseball during the 1920's and 30's. Sounds like a perfect baseball world, right? I'd think so.
THE GOOD OLD DAYS
One can only imagine watching a major league baseball game for only a quarter. In modern day, you'd be lucky to get a pack of gum for 25 cents. Sure, the economy has had it's ups-and-downs, portraying a topsy-turvy roller coaster.
However, has the game changed permanently? Will we ever see the game without digging into the depths of our wallets? Right now, it's about as likely as Mariah Carey throwing a strike.
Couldn't we blame this on the players? As greedy as they are, I'm actually surprised tickets don't cost more. Take A-Rod for instance: What will he actually do with $28 million every year? I'm not even sure they make a $28 million mansion.
The point is: What happened to the players playing for the love of the game? We never heard Babe Ruth complain for money, and as far as we're concerned, he's the greatest to step foot on a baseball field.
Once again, the economy is at its worse it has been in 60-something years, but that doesn't mean these players can dig even deeper into owners' wallets. $5-10 million per year is more than enough to put bread on the table and pay the bills.
Lastly, for the most part, the days before WW2 were steroid-less. I say "for the most part" because some have admitted to PED usage. However, they said they did it to be the best, for the love of the game. Nevertheless, they still cheated, and, in my mind, don't belong in the Hall of Fame.
MODERN DAY BASEBALL
Next time you take your family to a major league baseball game, remember how much it cost you. You'll probably leave with your wallet as light as Nicole Richie. Tickets are expensive enough, but $6 for a beer? That better be some stellar beer.
As I mentioned before, players become greedier and greedier until, before you know it, there is no more baseball to be played. Owners will run out of money. Nobody else will want to put up with 25 pre-madonnas (or in A-Rod's case, post-Madonna).
Also, in the modern day, baseball writers are reluctant to vote certain former players to the HOF, mostly because of steroid use. Steroids, these days, are used just to keep up with the competition. Young guys feel the need to "bulk up" and figure there is no other way than PEDs.
SOLUTION
Bud Selig, meet Roger Goodell, commissioner of the NFL. He's the founder of the "Zero Tolerance Policy." Meet him. Take notes. Enforce. Teach these ego minded players to be thankful they have a well paying job in the time of an economic crisis. Not only is it incredible to have such job security, these guys get to do what they love to: play baseball.
Bottom line: Fans are tired of what baseball has come to. It's costly. It's annoying. It may not stay America's pastime for too long.