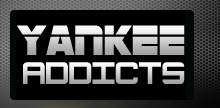 October 9, 2010 · David Martin · Jump to comments
Article Source: Bleacher Report - New York Yankees
Congratulations to the New York Yankees for sweeping the Minnesota Twins and moving on to the American League Championship series.
What do the Yankees get for their efforts?
That's right, Major League Baseball, along with their postseason partners TBS and FOX, have decided to start the ALCS when they think that the most fans will be sitting in front of their TVs.
Hitters lose their timing and pitchers lose their sharpness. It is as simple as that.
Even if both AL series went all five games, even with days off for travel, the ALCS match up would be set by Tuesday at the latest. So why start the series on Friday? One day off is obvious, but why does a team that won in five games need to be rewarded with two days off?

In fact, why should there be an off day after game four of a five game series? These are players who routinely played 15 or 16 days in a row. Now they have a day off every third day.
The other issue with the scheduling is the attempt at allowing fans to watch every single pitch of every single game.
TBS was touting it all week as the playoff triple header. Starting at about noon mountain time, the action began. So, while Major League Baseball makes sure that no game is being played at the same time, they trip over their own feet, because most Americans are busy working during a random Wednesday at noon.
Worse is the fact that the Rays and Rangers (Rockies in their two recent postseason appearances) were forced to play the awkward day game both days.
Great job Major League Baseball. Two cities, one in which hasn't been to the postseason since most fans were worried about whether the world would turn inside out when the clock struck midnight on Y2K, were not able to watch their teams play in the playoffs.
The fact is, most fans are sick of watching the same teams in the postseason every year. Baseball fans are interested in watching a Rangers team that played on national television exactly one time all season. Fans want to see the Rays, who have found a way to win in the mighty AL East.
The solution is simple. If TBS is serious about broadcasting the playoffs, then they need to do what they do when a game goes long. Scrap the day game. Start the game that is being played on the east coast at 5:00 eastern time, then start the other two games at 8:00 eastern. Play one game on TBS and the other on TNT.
Most fans, sitting at home wishing their team was in it, would rather flip back and forth between the games anyway. Fans of the teams would leave it on one station, not concerned with the other series anyway.
That would allow fans to watch every pitch that they want to watch. Fans in Tampa and Arlington wouldn't have to call in sick two days in a row to watch their team play for a championship.
The reality is, even huge baseball fans don't have the time to watch three straight games that last much longer than the average baseball game because the station has sold an extra commercial during every single break.
At some point, Major League Baseball needs to quit disenfranchising their fans by trying to make every single one of them happy.
Read more New York Yankees news on BleacherReport.com