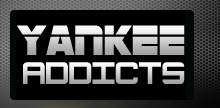 April 26, 2009 · Joey Corso · Jump to comments
Article Source: Bleacher Report - New York Yankees
Enter Sandman by Metallica starts blasting through the Yankee Stadium loud speakers at the top of the ninth inning. If there ever was a song opposing players of any team wished they would never have to listen to, this would be their choice.
The crowd gets up and roars its approval as the inevitable is about to happen. The Yankees have the lead and are about to give the ball to their 39 year old one pitch closer. Just so happens, Mariano Rivera is as dominating as ever.
Not to bad a career put together by a one-time failed starter whose rookie ERA was 5.51 huh? After a shaky opening season in which the Yankees were still experimenting in where to put their future Hall of Fame star, Rivera's career has been nothing short of spectacular. With 486 regular season saves and counting, plus a career .77 post season ERA, it is easy to see why many call him the greatest closer ever.
Goose Gossage once said about him, "When Rivera takes the mound, the other team "is sitting in the dugout thinking, 'We've got no chance. It's over.' This guy walks into the game, and they are done."
Of all the worthy praise Rivera has received over his career, nothing stands out more than his consistency on a year to year basis. Since 1997 when Rivera took over as the Yankee's full time closer, only once has he posted less than 30 saves or an ERA over 3. Incredibly, he has been even more dominant in the post season.
Although many remember him from his infamous blown save against the Arizona Diamondbacks during Game 7 of the 2001 World Series, Rivera's 34 saves are top in post season history.
Current teammate and fellow star player Alex Rodriguez summed him up perfectly saying "To me, he's the greatest modern day weapon I have seen or played against. He has been the heart and soul of the New York Yankees dynasty."
What makes Rivera's success even more insane to fathom, is that he really only uses one pitch. Last season, posting typical Rivera numbers (1.40 ERA, .65 WHIP, 12.8 SO/BB) he threw his fastball only 18 percent of the time, less than any pitcher except famed knuckleballer Tim Wakefield.
The other 82 percent of the time, he threw his cutter, which many describe as the single best pitch in the game. Like his fastball, Rivera's cutter is clocked between 92-94 mph. However, it darts in and out a good 3-4 inches either way and vertically moves in a half foot range.
When asked how to describe Rivera's cutter, Tony Womack said "When he throws it, you think it's straight, and the next thing you know, it's on your thumbs."
When major league players usually hit the age of 39, the majority are either retired or fighting for a spot on a big league club, not one of the biggest star's on baseball's glamour teams.
Coming off elbow surgery this past off-season, Rivera looks headed towards another fantastic season posting a 2.16 ERA and 11.9 SO/9 ratio at the time of this writing. The cutter again appears to be sharp and his velocity remains intact.
As spectactular as Rivera is, he will not pitch forever. The likelihood of a similar pitcher coming around, ever, is beyond rare . Even for those non-Yankee fans out there, you should savor every brilliant moment this once in a lifetime closer provides us. That does not include of course, when he slams the door on your favorite team once again.