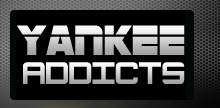 March 27, 2010 · Leslie Monteiro · Jump to comments
Article Source: Bleacher Report - New York Yankees
When Joba Chamberlain took the mound in his first major league appearance, he piqued everyone's interest. The Yankees hyped him up as a special pitcher.
Chamberlain backed it up by pitching well in relief for the first few weeks of his callup in 2007. For good measure, he earned a standing ovation from the fans and respect from his teammates for throwing the ball at Kevin Youkilis' head.
Joe Torre trust the rookie to the point he was inserted as Rivera's setup guy. It was the wise move. The game would be over by the eighth inning with both Joba and Rivera's filthy stuff.
Everyone fell in love with the new guy at the time. It got to the point where they would worship him everyday.
He was New York's flavor of the month for the summer and the fall.
Hank Steinbrenner talked about his young phenom as a starter in the 2007 offseason. Steinbrenner's son mentioned how Chamberlain had the stuff of Josh Beckett in rationalizing his decision to make him a starter.
That experiment turned out to be a failure several years later. The hitters figured out how to get to him, and he was exposed as a fraud.
Now, he will be Rivera's setup man for the foreseeable future.
Forget about him being a starter anymore. He does not have the temperament, work ethic or the endurance to fit that role.
In this regard, he has been a bust. Let's stop pandering him and accept the truth.
With the stuff he has, he should have been a starter. He was a great starter in college and in the minors.
The Yankees did not have him as a reliever when they drafted him. In fact, no touted pitcher dreamed of being a reliever when they were growing up.
Now, who knows how he will do as a setup guy? It's not like he was great in that role in the postseason.
What if he continues to struggle then?
People can talk about him being the heir apparent to Rivera, but that's no guarantee. A pitcher has to be special to be a closer.
Chamberlain throws to the strike zone at a faster rate, but guess what? Armando Benitez used to do that too. And it got him nowhere.
A pitcher needs to have that temperament to flourish as a closer. Who knows if Chamberlain has that?
From what we have seen, especially in the postseason, it's hard to believe he does.
It will be interesting how he does this year in his role. If he continues to struggle, it's time to admit he is a bust.
Joba's bobos talk about how the Yankees ruined him by yanking him around in starting and in relief. This is nothing more than hogwash.
Either he knows how to do well or he doesn't. Teams thrust many young starters in that role so let's not make that as an excuse.
The Twins actually did that with Johan Santana for several years, and he managed to carve out a good career.
It's about time the Yankees to stop coddling him. They actually got around to it by telling him to start performing.
It would be nice now if the fans did the same. They should stop making excuses for him and demand something out of him.
It's his turn to make amends and make something out of himself as a reliever.
Unfortunately for him, this is not what he had in mind at this point of his career.
Read more New York Yankees news on BleacherReport.com