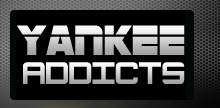 June 18, 2009 · William Yoder · Jump to comments
Article Source: Bleacher Report - New York Yankees
The Washington Nationals did the unthinkable Thursday night: They shut out the Yankees at Yankee Stadium, beating the club 3-0.
Nationals starter Craig Stammen entered the game winless in the first five starts of his career, but by the time the night was over he would end up with six shutout innings and a celebratory pie in the face for his first win.
Stammen was dominant through 6 1/3 innings, allowing only six hits with no walks and two strikeouts.
He relied on his fastball, throwing only nine breaking pitches all night, and pounded the strike zone against one of the best lineups in baseball, shutting the Yankees out at home for the first time in their new confines.
In the last five games, Nationals starting pitchers have a 2.30 ERA. The rotation's success is starting to turn some heads, as the oldest member, John Lannan, is only 24 years of age.
"We're like best friends, all five us," Stammen said about the rotation. "We all get along and try to get each other better."
One can only imagine what the future holds for this rotation, as Stammen, Ross Detwiler, and Jordan Zimmermann are only expected to get better. Not to mention, a certain No. 1 draft pick is expected to join the rotation at the start of next season.
The Nationals pitching staff, once widely accepted as the worst in baseball, ranks 12th in team ERA for the month of June with a 3.82 ERA.
In the last month, the Nationals' ostracized bullpen ranks 17th in the MLB in ERA, allowing 4.01 runs per nine innings pitched.
In the last seven days, the 'pen ranks third in the Major Leagues—and first in the National League—with a 3.06 ERA.
With this solid pitching, the Nats have something they haven't seen since early May: a winning streak. This victory marks only the second time all season the Nats have won consecutive games.
Hopefully, it becomes a trend.