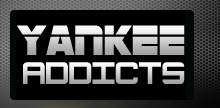 February 6, 2013 · Jess Lander · Jump to comments
Article Source: Bleacher Report - New York Yankees
It happened so fast. One day in 2005, Boston's favorite idiot Johnny Damon was promising that no amount of money would bring him to New York. He said,
"There's no way I can go play for the Yankees, but I know they're going to come after me hard. It's definitely not the most important thing to go out there for the top dollar, which the Yankees are going to offer me. It's not what I need."
And then in a flash—eight months later—he was signing on the Devil's dotted line.
But it didn't seem real until Damon showed up at his first Yankees press conference a new man. His mug was clean and hardly recognizable; he had clipped his long, Jesus-like locks and shaved off his beard.
Damon was a Yankee.
And a traitor.
On Wednesday morning, it happened again. CBS Sports released a video of a goatee-free Kevin Youkilis, making the hard truth a reality for Red Sox fans: their beloved baldy has officially joined the dark side.
This time, fans knew it was coming. But one can't really ever prepare themselves for the sight of a Yankee clipping.
Youkilis was traded away to the White Sox last summer amidst the Bobby Valentine saga. But in the offseason he shocked and broke the hearts of Red Sox Nation when he penned a one-year, $12 million deal with the Yankees.
Literally any other team in the league would have been acceptable. Just not them.
While fans can't feel too betrayed considering he didn't leave by choice, the image of a freshly-clipped Youkilis is at best, unsettling. And it's sure to get much worse when they see him donning pinstripes for the first time, when the two teams face off in the season opener at Yankees Stadium on April 1.
Read more New York Yankees news on BleacherReport.com