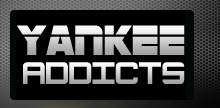 May 13, 2009 · Keith Hernandez · Jump to comments
Article Source: Bleacher Report - New York Yankees
I started writing this post last week, put the finishing touches on it two nights ago and planned to edit it and send tonight, so I was very unhappily surprised that it was deleted. I'm starting to think this new Mex guy is not the Red Sox fan he says he is. Maybe he just has deep-seated feelings for Johnny Damon, and strums his guitar at night thinking about Johnny's clean-shaven Yankee face, and realizes he doesn't care much for that rough scruff of a beard.
Foiled again, Mex. Last week I went to the new Yankees stadium to see the most hated baseball team in America take on the Tampa Bay Rays.
Despite my dislike of this team, I have to say that the old Yankees stadium is my favorite of the 10-12 I've been to. Mostly this is because I've had the misfortune of growing up watching baseball in some pretty bad ballparks–Oakland Coliseum, Busch Stadium II in St. Louis, Veterans Stadium in Philadelphia (which is exactly the same as Busch Stadium only with douchebags) and Shea (which is exactly the same as Busch and Veterans only with fatter douchebags).
I haven't been to a lot of stadiums; probably only 10-12 in my life. The two most notorious absences from my list are Fenway and Wrigley. I'm happy to skip Wrigley for the rest of my life — there's nothing redeeming about the Cubs. They're my Cardinals' main rivals explicitly because of geography. There are no memorable pennant races or playoff series between the Cardinals and the Cubs because the Cubs have never been any good until recently. As Mex mentioned last week, we're tired of hearing about the Yankees/Red Sox rivalry, but it's the best game in town.in recent history, the square-offs they've had transcend East Coast media bias and bloated payrolls. Throw out the 21st century–-the Cards and Cubs don't have a game as meaningful as the Bucky Dent game in their history.
So it doesn't bother me that I haven't been to Wrigley; I have no desire to crawl into the belly of the beast, especially when Cubs fans are famous for their bandwagon-jumping. Case in point: my own brother who lived in St. Louis for 13 years as a kid now lives in North Chicago and roots for the Cubs. If he invited me to a game, fuck the Billy Goat. I'd bring a Tommy Gun.
Love 'em or hate 'em, Yankees Stadium has its draw. No matter where you sat, you were right on top of the action, stacked up like drunk pancakes in a 5am diner, surrounded by lunatics. It wasn't safe, it wasn't family-friendly, it wasn't the image that graham-cracker commissioners like Selig are trying to project. It was dangerous fun.
I actually worked out the settlement of my divorce (hey, ladies!) in Yankee Stadium. A good friend gifted me a pair of great tickets behind home plate, and on a comfortably warm night with hot dogs and beers, me and the ex came to terms on how to move forward. When she got up to go to the bathroom, a guy behind me who had been completely silent struck up a conversation:
Guy: So you're getting divorced.
Me: Yep.
Guy: (Silence)
Me: (Silence)
Guy: Don't give her a fucking thing.
But as a baseball fan, I am dying to check out both of the new New York stadiums, and will be attending Citi Field next month with Hernandez to buy him his well-deserved burger. And on this night, I was invited by my friend Fitz who is a gracious lifelong Yankees fan.
It was tough to see the old park standing intact right across the street, I'll admit. But walking into the new stadium, I will give the Yankees props for not losing sight of their history. The first thing I was greeted to was a huge entryway dominated by great photos of Yankees past. In a nice touch, they took black-and-white photos of Gehrig, Ruth, Ford, Dimaggio, Mantle, et al. and backed them with color photos of Munson, Reggie, Mattingly, Nettles (nice fro!) and Billy Martin. A very nice touch.
As Fitz pointed out as we made our way up to the 400 level, beyond that initial entryway you can see the field from any place in the ballpark. It's wide open with great sight lines, and extra wide walkways around each level. Fitz had grabbed us $40 tickets off Craigslist the day before, and they were great seats—way up on the third base line but with great views of all the action. The main thing I noticed is that the new bleachers are fantastic. They're much bigger, they're connected to the rest of the ballpark and they serve beer again! Next trip up I'm definitely checking them out.
But the first thing I noticed is that in the new stadium you're not on top of the action like you used to be. The field feels further away, not necessarily as far as I was in the old concrete monoliths I visited as a kid, but almost far enough where you feel the crowd couldn't have the impact that it used to have. (Which probably has something to do with why the Yankees have already dropped 5 at home to the Red Sox.) But overall, aesthetically, I was impressed.
The crowd is definitely different. Even in this economy, you'd think the Yankee fans would be filing in and buzzing for the first matchup between the reigning American League pennant holders. I know our current economic times are pricing people out of luxurious pleasures like Yankees box seats, but this was ridiculous. There was good representation behind the plate in the best seats, but all the field level box seats in the corners and the outfield were noticeably empty.
It made me realize a sad truth–the Yankees have priced their most diehard fans out of the stadium. And that flat out sucks. Instead of uneasy conversation with grizzled crazy Yankee fans, Fitz and I got into a discussion with a New Jersey dentist sitting right in front of us who was waiting for her boyfriend to come back with a hot dog for her.
(By the way, this girl, Dana, was a trip. I had just been to the dentist to get a crown replaced, and my dentist is this inked earringed vodka-and-Red Bull-drinking Greek with long hair and alligator shoes who called me from his cell the night before to push up his appointment so he could catch a flight to Vegas or South Beach or wherever he ruins women's lives. Coincidentally, Fitz was going to the dentist the next day. So while Dana waits for her hot dog, Fitz asks her about her boyfriend. She says, "well, this is really our first date…in public." What the fuck does that mean? She tells us that she has a practice in NJ, and also has a protege that worships her in Union Square that I should totally go see named Greta. She says that Greta owes everything to her. I ask her if Greta would agree with this story and she says, "oh, definitely. By the way…..Greta's HOT." Very creepy sexy. When boyfriend came back with hot dogs, he moved her to a few rows behind us. Good call, my friend. Watch out for your sex-starved dentist.
And I am totally going to see Greta for my next appointment.)
On to the Yankees. They look terrible! I realized I was catching them a week before A-Rod came back and a few days after Posada hit the DL, and frankly some of them are hitting pretty well. Damon, Cano and Melky Cabrera have had hot starts, and Hideki Matsui was DHing and putting up good numbers. To no surprise of mine, Mark Teixeira is off to a slow start. He's still walking and playing great defense, but I don't think he realized he was headed into the most uncomfortable locker room in recent memory.
And Derek Jeter? His career is over. It boggles the mind that he had an MVP-like season two years ago, but he's slumping and pressing hard, and yet Joe Girardi is trotting him out to the leadoff spot every game, because that's where Derek Jeter bats. It doesn't matter that there are 4-5 guys in the lineup who can get on base better than he can. I know that even at his $21 million salary, he's worth more to the Yankees than anyone because he fills seats, and he's got a work ethic. But he needs to get off his fucking high horse and take a lesser role on this team. He should be batting 6th or 7th. He went 0-5 in this game with no great swings, by the way.
I was psyched to see A.J. Burnett pitch, as the Cardinals took a run at him before he signed with Toronto a few years ago. He has electric stuff-–and the worst pitching coach in the league. The Yankees have been pretty awful at defense the last few years, but upgraded immensely by getting Teixeira. Yet Burnett threw 20 pitches per inning, trying to strike out every hitter. It was comical watching him throw a 2-2 curveball in the dirt to Rays catcher Dioner Navarro, who is batting 9th and hitting in the .160s.
Andy Sonnastine, who I believe is the Rays #3 pitcher, started for the Rays. The Yankees were uncharacteristically impatient at the plate, but I swear that Sonnastine threw 10-12 changeups that the Yankees couldn't read and whiffed on. It was a pretty pathetic performance—the Rays are clearly a talented team, but it's safe to say that they caught a wave last year, and are not going to be winning the AL East this year. But for 7 innings they were outmatching the Yankees.
Btw, the worst three awful Yankees Stadium "traditions"? YMCA by the ground crew, "God Bless America" by Kate Smith and that fucking awful "Cotton-Eyed Joe?" Intact and preserved, fuck you very much. After Kate Smith, I attempted a "Potvin Sucks!" chant but got empty looks.
Here's where it got weird: in the 8th, the Yankees loaded the bases, Teixeira came up, and it started to pour. And fans started to flee for the overhangs! With their biggest rally of the game! Tex came through, clearing the bases with a double and tying the game at 3, after which they called an immediate rain delay.
(Btw, since Tex's last name is pronounced Tesh-EER-a, from now on I'm referring to him as 'Tesh', which of course will cause you to confuse him with empty-suited John Tesh. I hope this nickname takes hold, as it will undoubtedly cause 'Tesh' even more mental anguish during his stay in New York.)
This is where I truly lost hope with the new Yankee fans. Half of them headed for the exit. What the fuck? Baseball fans like to joke about the Dodgers for pulling this same half-assed shit. Let's go as soon as it gets uncomfortable or late so we can be well-rested tomorrow to continue living our pathetic empty lives. I'd never seen anything like this in New York before.
Fitz and I took the opportunity to skip down a few decks during what turned out to be a pretty short rain delay. We wanted to check in on the field level seats behind home plate where we discovered one of the brave new exploits of the new stadium. You can't only not sneak in to the field boxes, you can't even *see* them. It's the one spot I saw in the stadium where they've blocked off visual access to the field. More than that, there are private elevators monitored by Yankees staff to take those ticketholders down to their seats. It was like the fucking vault in Oceans Eleven. I found this hysterical.
The security in the 200 level seats was pretty secure, but as the rains continued, we found a section unmanned by a security guard and made our way down to the front row. And I have to admit, the stadium and field looks fucking amazing from that vantage point. We could tell from the grounds crew that the delay wasn't going to last long.
As the rain subsided, some fans came back into the front row of the section and unseated us, but the rest of the section remained empty. As Fitz and I, enthralled in a truly entertaining ballgame took in the crowd in this section, we realized they were all rich teenage kids using parent's tickets for a night they really didn't give a shit about. When Rivera came in for the top of the 9th, let a guy on and ended up striking out the side, only one of the kids shared in our fist-pump-and-bump.
The aftermath: we wanted to stay in those seats but duty called (it was, after all, $9 beer night, and yes, that is actually a deal the Yankees were offering that night-–most domestic beers go for $10.50 – $11.00) While in the bathroom, we both heard shithead John Sterling call Carlos Pena's HR off Rivera in the top of the 10th. We couldn't get back to those prime seats, so we wandered the aisles and watched 73 year-old Troy Percival wheel his walker out to the mound to shut down the top of the Yankee order (Jeter, Damon and Teixeira) in the bottom of the 10th to win the game. And sure enough, as Tesh came to the plate, it started to pour again. And again, before the inning even started, fans were filing out of the ballpark.
So my thoughts? The stadium is cool. If we were all rich or dating ugly socialite Upper East Side trash, they'd sell that place out every night. Their manager sucks (whole other post), they're old, and not really that inspiring.
And Derek Jeter? Dude, you have four rings and are an automatic Hall-of-Famer. Get the fuck over yourself.