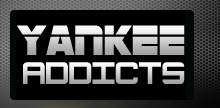 April 28, 2009 · Heartbeat Of The Bronx · Jump to comments
Article Source: Bleacher Report - New York Yankees
The Yankees entered Comerica Park in Detroit riding a painful three-game losing streak. That pain continued to compound on itself, as yet another loss dropped them below .500 on the season.
Even a sharp CC Sabathia was not enough to reverse the trend for New York, as its offense was never given a chance to get into a rhythm.
Tigers ace Justin Verlander was more than simply "on his game." Verlander was virtually untouchable, making 60'6" appear more like a 46' Little League mound.
Verlander was armed with a blazing fastball touching upwards of 99 on the radar gun, as well as a power curveball that fell more sharply than the Dow Jones Industrial Average.
Unfortunately for the Yankees, Verlander had no-hitter stuff, much more reminiscent of his 2006 Rookie of the Year campaign than his recent struggles.
Striking out nine and walking zero, he suffered no setbacks aside from the inability to figure out how to cool Robinson Cano's hot bat.
The Red Sox series dug up limitless concerns about the Yankees ball club and targeted many underachievers with a barrage of finger-pointing. Each crushing loss left a new catalyst to blame and excuses to make, leaving New York wondering how it let things slip away.
Monday night's game did not provide any second-guessing, regretful sentiment, or "what-ifs." Regardless of what buttons manager Joe Girardi attempted to push, the Yankees were going to be beaten by a hurler hell-bent on dominance.
This has emerged as a trend of sorts for New York, as at least one facet of the team falters on a given day.
When they pitch, they simply cannot drive in runs. When they score enough to win while receiving quality starting pitching, the bullpen implodes. Even when the Yankees score in double figures, they find a way to set franchise records in pitching deficiency.
Until the Yankees begin to fire on all cylinders, or at least most of them, they will be unable to string together victories. They will need to eventually perform a feat equal to Boston's current 11-game rampage.
New York has driven past the Red Sox on a highway going in very different directions. If it does not make a U-turn soon, it may be left in Boston's rearview mirror for quite some time.
The hopes of a Yankee stopper now fall on the shoulders of recent call-up Phil Hughes—not quite the burden of pressure New York hoped to throw onto him in his first start back in the big leagues.
Hughes will attempt to throw water—instead of oil or fuel—on the Yankees' fire, as he will replace Chien-Ming Wang and his recent mental/physical breakdown.
Someone has to wake the Yankees up from this nightmare, and hopefully that someone is Hughes. Stay tuned.