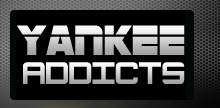 June 16, 2009 · Heartbeat Of The Bronx · Jump to comments
Article Source: Bleacher Report - New York Yankees
Yankees fans attempt to remember a time when Chien-Ming Wang led all of MLB in wins. They try to hold onto the memories of a sinker once described as "trying to hit a bowling ball."
Concerns of a recurring injury have subsided, and a steady and explosive velocity has returned to Wang's arsenal—albeit an arsenal now more feared by scoreboard operators than opposing hitters.
If everything is right physically with Wang, then initial fears of a deterioration taking place between the ears have begun to come to fruition.
We have all seen the numbers. Wang's 14.34 ERA through the first five starts of the season is the worst in Major League Baseball history—sadly, not at all hyperbole.
Nothing short of a liability and an embarrassment, Wang has done virtually nothing to change the level of optimism from "completely empty glass" to "glass half empty," let alone "glass half full."
Placed into a very precarious situation by the Yankee hierarchy, Wang was originally slated to face both Boston and the Mets in consecutive starts. The baseball gods saved him from being thrown into the lion's den, as a rainout slightly shifted his fate.
Wang now faces the lowly Washington Nationals, "proud" owners of a 16-45 record and currently on pace for 119 losses in 2009.
The Nationals are 19th in runs scored, 16th in team batting average, and 14th in team slugging percentage—even while boasting one of MLB's best power hitters in Adam Dunn.
If Wang cannot pitch dominantly against the worst team in baseball, the Yankees will have their hand forced. They simply cannot continue to run a mentally weak hurler out to the mound that is depleting an already bungling bullpen.
To put things into perspective, Wang is 0-4 in his five starts in 2009. In 2006—his best season—it took him 19 starts to suffer his fourth loss.
The pitcher that now wears No. 40 for New York is simply a shell of the man once counted on for length and consistency every five days.
Phil Hughes, on the other hand, has been further forcing the issue with stellar pitching over his last five appearances.
Since May 20, Hughes has pitched 18.2 innings while generating a 2.89 ERA, 0.86 WHIP, 20 K, and just four BB. This stretch included wonderful outings against divisional leaders Boston and Texas.
Wednesday's start at Yankee Stadium has now become Judgment Day for Wang, as a confident and eager Hughes is now breathing down his neck for the fifth spot in the starting rotation.
One more abysmal performance is likely to spell the end for New York's former ace—at least for the remainder of 2009. Only an injury would reinsert him into the Major League equation.
Promising young phenoms like Rick Ankiel and Jeff Francoeur have had their physical tools overcome by their mental doubts, and Yankees Universe can only hope that Wang is not the next in line.
Perhaps a full offseason of work and a fresh start in 2010 is just what the doctor ordered for Wang's resurrection. Perhaps he is about to turn a miraculous corner that no one in New York could dare to anticipate.
New York may be "the city that never sleeps," but it will be Wang's eyes that will be unable to rest easily if he falters on Wednesday night.
Also seen at: Heartbeat of the Bronx