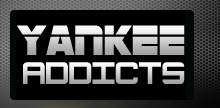 January 18, 2012 · Stephen Meyer · Jump to comments
Article Source: Bleacher Report - New York Yankees
Jesus Montero being shipped out west to the Seattle Mariners in exchange for high-upside flamethrower Michael Pineda was rightfully at the epicenter of MLB talk this past weekend.
Many could argue that no Yankees hitting prospect has been this hyped since Bobby Murcer and any time a player compared to Manny Ramirez and Miguel Cabrera gets dealt, it will dominate the headlines.
Flying under the radar, however, was another exciting young pitcher New York acquired in the same deal.
Jose Campos, a 19-year-old capable of hitting upwards of 98 MPH on the gun, could very well be the steal of the deal for GM Brian Cashman and his Yanks.
Campos posted a 2.32 ERA, 0.97 WHIP and 85 K in Single-A in 2011—all while allowing just 13 BB in 81.1 IP over 14 starts.
While still having a long way to go in his development, Campos' stellar strikeout/walk ratio and consistent velocity are things not typically present in a power arm still six months from his 20th birthday.
Bart Klett over at BaseballInstinct.com has a great piece outlining Campos' upside, describing his impressive fastball as such:
"Campos is listed as 6'4" and this helps him to get downward plane on his fastball. His fastball has been described as heavy and I think that is a fair description. Very few hitters are able to square up and drive the ball with any authority. In fact, at the games that I have observed, not many hitters actually got the ball out of the infield."
Numbers can be very misleading in the lower levels of minor league baseball. But the qualities described about Campos are things that translate to the upper levels and provide the foundation for success against more seasoned hitters.
Most would consider Baseball America the premier prospect analyzers in the country—at worst on the short list of trusted voices—and they have a very recent scouting update on Campos found here.
In the description, Jim Callis explains how the trade impacts the Yankees' Top-10 prospect list:
"The Jesus Montero/Michael Pineda trade not only sent promising righthander Jose Campos to the Yankees, but it also meant that he got blocked from appearing on two Top 10 Prospects lists he otherwise would have made. We already released our Yankees Top 10 in advance of the trade, and our Mariners Top 10 will come out afterward. Campos would have ranked No. 5 on both lists."
This puts Campos as the third best pitching prospect in the Yankee's system behind Manny Banuelos and Dellin Betances, high praise considering both are viewed as future top-of-the-rotation starters.
In fact, Campos is on par in terms of upside, as Conor Glassey in the same BA article states that "the Yankees targeted Pineda to upgrade their rotation and Campos gives them a second potential frontline starter down the road."
While Yankees fans were frustrated—if not angered—at dealing away their favorite prospect, they received TWO arms in return that you simply do not find often.
If Jesus Montero becomes Manny Ramirez and Michael Pineda never develops a quality changeup, the deal will be a failure. But if Jose Campos passes Pineda by and becomes a top No. 2 starter like a Dan Haren or Jon Lester, the Yankees can save face.
The point is, the little discussed Campos provides for a contingency plan to make the trade a big success come 2015, and a 50 percent return on these arms still results in a potential win-win.
If both reach their full potential, however, Brian Cashman may have just pulled off the biggest coup of his tenure as Yankees GM.
Campos has some work to do in harnessing his natural power and throwing his slider and curveball with more consistency, but Yankees fans can rest assured that he is as far away from a "throw-in" as it gets.
While Jesus Montero and Hector Noesi are MLB-ready and tough to lose, Pineda and Campos may just have long and memorable careers here in the Bronx.
Read more New York Yankees news on BleacherReport.com