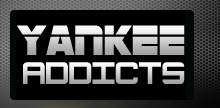 February 17, 2012 · Tim Daniels · Jump to comments
Article Source: Bleacher Report - New York Yankees
The New York Yankees stacked lineup would give Jorge Soler the best chance of success, which should be more important to the 19-year-old outfielder than the size of his first contract. He has plenty of potential, but needs the right situation like New York to reach it.
Jeff Passan of Yahoo! Sports tweeted the Yankees and Phillies are the most heavily involved teams in the Soler sweepstakes. He expects the competition will significantly drive up the signing price.
While that's not a surprise considering all the big-market teams involved, Soler needs to make sure to consider more than simply money in his final decision. If his career is as successful as it has a chance to be, there will be more than enough time to fill up his bank account.
The Yankees have such a deep lineup that Soler wouldn't have the pressure on his shoulders that he would in Philadelphia. Instead of being a marquee piece expected to produce big numbers, he'd just be a supporting cast member in New York.
It's an important distinction for a young player looking to make the jump to Major League Baseball.
The big contract he's going to receive without much of a track record to fall back on means expectations will be out of control. Fans are always a little overzealous when it comes to new players, so one with as much hype as Soler needs every edge he can get.
Batting behind sluggers like Mark Teixeira, Robinson Cano and Alex Rodriguez among others will take the focus off Soler. It would allow for a much smoother transition, especially since it's not even guaranteed that he'll be ready to be a full-time starter.
Another factor that comes into play is Yankee Stadium. The home run haven gives him a nice edge. He's expected to develop into a power-hitting right fielder once he fills out his frame, and few parks in the league are better for that type of player than the one in the Bronx.
When you put it all together the Yankees are a perfect fit for Soler. The pressure to perform would be far less than any other team in the league, particularly because New York also filled its pitching void, and his numbers would be inflated by the stadium.
There's no better chance of success for him. Even if another team is offering a slightly bigger deal, the Yankees would ensure his long-term value reaches its peak.
Read more New York Yankees news on BleacherReport.com