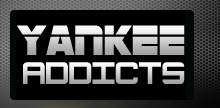 October 29, 2010 · NY Sports Digest · Jump to comments
Article Source: Bleacher Report - New York Yankees
By Eric Marmon
Interesting read in the NY Post today, which took at a poll on their official website asking fans of the New York Yankees who they want back in pinstripes in 2011. The most noticeable was, when asked who they wanted to start the majority of games behind the plate for the Bronx Bombers next season, Yankee lifer Jorge Posada received just 32.5 percent of the vote, while Triple-A phenom Jesus Montero received 67.5 percent.
New York's displeasure with Posada doesn't come as a complete shock. Of the Yankees "Big Four", the catcher seems to be the least beloved. And the fact that he seemed physically unable to throw out base-stealers by the start of fall (a major necessity with guys like CC and AJ pitching), combined with his drop in production and 39-years-of-age make Jorge an easy target for fan frustration.
That being said, Montero is a complete unknown. Sure, he batted .289 with 21 home runs in Triple-A last season, but come on… the guy isn't even old enough to drink yet. There is ZERO reason to believe he is ready to replace Posada. He's kind of like how Brett Ratliff was viewed for the Jets a few years back.
Does Jorge Posada need to be replaced? Yes, if not in 2011, then beyond. But is the 20-year-old Jesus Montero ready for the role? Probably not. He'll get a chance in spring training to compete for a spot on the 25-man roster, but it just feels like a guy his age would probably be best suited with more time in the minors.
Sorry fans. Look for the Yanks to either go with a Francisco Cervelli/Jorge Posada platoon for the majority of 2011, or to sign a veteran catcher to help Jorge out until Montero has fully developed.
Some other interesting things from the poll:
– While 87.1 percent of voters thought Derek Jeter should be the starting shortstop, voters in a separate poll weren't really sure whether the Yankee captain should come back at all. Of nearly 16,500 voters, over 20 percent said the Yankees should let Jeter walk. [Just a reminder: this was an informal, unofficial poll on NYPost.com. Mets fans (and everyone else) could vote too, which might explain the anti-DJ results]
– The closest vote was over who the primary designated hitter should be, with free-agent-to-be Adam Dunn getting 24.4 percent, Lance Berkman getting 19.3 percent, and guys like Marcus Thames, Hideki Matsui, Victor Martinez and—believe it or not—Manny Ramirez all within 10 percent of each other.
– Gardner not needed. When asked about center field, 86 percent of voters took Curtis Granderson over Brett Gardner, and when asked about right field, 57.4 percent wanted free-agent Carl Crawford over the speedy Gardner.
-And if you're looking for one more sign that the 2009 honeymoon is long over for AJ Burnett, more fan votes went in favor of Javier Vazquez being the fifth starter over AJ.
This article originally appeared on The NY Sports Digest. If its off-beat and it's about the Mets, Yankees, Knicks, Giants, Jets, Islanders, or Rangers, than The Digest is the spot to get it. Stop with the mega-sites and get a feel for the true pulse of New York at www.NYSportsDigest.com
Possibly Related Posts:
Read more New York Yankees news on BleacherReport.com