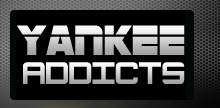 May 5, 2009 · Rob Abruzzese · Jump to comments
Article Source: Bleacher Report - New York Yankees
According to Peter Abraham of the Journal News, Sweeny Murti of WFAN reported that Jorge Posada has landed himself on the DL thanks to a strained right hamstring injury he sustained while sliding.
This is a huge blow to the Yankees as Posada has been one of the bigger bats in their lineup this year and replacing him will be backup catcher Jose Molina who can't even compare with Posada offensively. By many accounts losing Posada cost the Yankees a spot in the playoffs last season.
Now, replacing Posada on the roster is becoming a question that we probably won't know until tonight's game against Boston starts.
The only minor league catcher they have on the 40-man roster is Francisco Cervelli so they could call him up without making too many adjustments.
The problem is he's still in Double-A and he's hitting a measly .190 down there. Although that doesn't matter too much because he'd really only be in the Bronx as a backup and they probably wouldn't expect much offense, but it would be nice to know he wasn't an automatic out.
Behind him is Kevin Cash, who was seemingly signed just for this purpose. The problem is they don't have much room on the 40-man roster and to add him they would have to risk losing either Steven Jackson or Anthony Claggett and both have been putting up pretty good numbers in the minors.
If they make a move on the 40-man roster it will likely be to add Cash, but it could be PJ Pilittere who gets the nod instead. Pilittere has been putting up pretty good numbers in the minors, .317 BA, .837 OPS in 41 at bats, and is generally known as a strong defender who calls a good game.
The advantage of adding Cash instead of Pilittere is that Cash is more disposable and if the Yankees wanted to make roster moves later on down the road it would be easier to ditch him, but it could also be as easy to ditch Angel Berroa once Alex Rodriguez returns on Friday so that could be a non-issue.
On that note, a perfectly reasonable move would be to call up Cervelli now, use him until Friday, then send him back down and DFA Berroa to make room for either Cash or Pilittere. That would probably be the least painful move the Yankees could make.