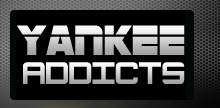 May 5, 2009 · Rob Abruzzese · Jump to comments
Article Source: Bleacher Report - New York Yankees
According to Bryan Hoch of MLB.com, Yankees catcher Jorge Posada is going to get an MRI today after injuring his right hamstring while sliding on Monday night against the Red Sox.
"He said he felt it grab," Yankees manager Joe Girardi said. "It's not something that we need at this point. It's something we'll have more of an answer on after his MRI."

Girardi said that he could not estimate the severity of Posada's injury but that he would discuss with general manager Brian Cashman whether the Yankees needed to call up another catcher. Jose Molina is the only other backstop on New York's roster.

"I'm not sure how bad it's going to be, but he won't be playing [Tuesday], I can tell you that," Girardi said.
This doesn't come as especially good news for the Yankees. Posada has been a big part of their offense this year and has a .293 batting average, a .382 OBP, a . 573 SLUG, .955 OPS with five home runs and 20 RBI's through 22 games.
It is likely that Francisco Cervelli will get called up if Posada misses any significant time as he is the only other catcher the Yankees have on their 40-man roster. But his bat is about as good as Ramiro Pena's who is replacing the injured Alex Rodriguez who, with good timing, could be back as early as Friday this week.
So far there is no word on exactly how long Posada will be out. Girardi said he is not available on Tuesday.