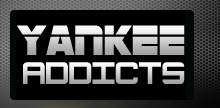 February 21, 2010 · Zeke Fuhrman · Jump to comments
Article Source: Bleacher Report - New York Yankees
He's baaaaack.
Johnny Damon (.282, 24 HR, 82 RBI), who spent the 1995-2000 season with the Kansas City Royals, is returning to the AL Central after signing a one-year deal with the Detroit Tigers.
Damon, who turned 36 last November, was also rumored to be negotiating with the Atlanta Braves, but ultimately decided to sign with the Tigers, who offered him more money.
The Tigers have been sellers more than buyers this season, dealing star outfielder Curtis Granderson (.249, 30 HR, 71 RBI) and letting gold glove infielder Placido Polanco (.285, 10 HR, 72 RBI) walk in free agency.
With the absence of Granderson and Polanco, the Tigers will more than likely have rookies Austin Jackson and Scott Sizemore in the lineup.
Damon's presence and leadership will help ease their transition to the major leagues, and will give Tigers manager Jim Leyland a reliable bat in the lead-off or number two spot.
The signing of Damon also leaves questions about veteran Carlos Guillen.
Guillen, who has been with Detroit the past six seasons, openly criticized Tigers' management about his playing time last season when his time in the infield diminished.
The Tigers made him the everyday left fielder, a position that now belongs to Damon. Detroit tried to deal Guillen last season but couldn't find the right deal.
Guillen, who turned 35 last September, will have to accept a role off the bench if he wants to stay in Detroit. He could be a good back-up play if Scott Sizemore, who has no big league experience, flops. Or he could move to third base if Brandon Inge's struggles continue.
Damon, a two-time World Champion, has been preying on AL Central teams his entire career. He has good career numbers against the Chicago White Sox (.291, 12 HR, 66 RBI), Cleveland Indians (.306, 10 HR, 55 RBI), Kansas City Royals (.301, 7 HR, 40 RBI), and Minnesota Twins (.301, 9 HR, 54 RBI).
Damon also plays very well at the Tigers' Comerica Park, where he is a career .363 hitter.
Damon, who made $13 million with the Yankees last season, took a 40 percent pay cut from the Tigers with his $8 million contract.
The deal works out well for both sides. The Tigers get a productive player without the multi-year commitment, and Damon gets to play for a possible contender.
Read more New York Yankees news on BleacherReport.com