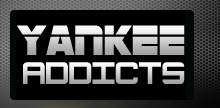 February 26, 2013 · Stephen Skinner · Jump to comments
Article Source: Bleacher Report - New York Yankees
As day one of "10 Weeks without Curtis Granderson" came to a close for the New York Yankees, word spread that former Yankees fan favorite Johnny Damon had expressed interest in re-joining the club.
The Yankees would be better served in looking elsewhere.
Damon, now 39 years old, once captured the hearts of the Yankees faithful as a major piece to their last world championship in 2009. That year he hit .282 with 24 home runs and 82 RBI while playing 132 games in left field. His grit, drive and heart endeared him to teammates and fans.
More importantly, his ability to hit in the clutch made him one of the reasons for that team's success. In 2009 Damon hit .299 with runners in scoring position, driving in 57 of those 82 RBI.
That was then, and this is now.
Since the 2008 season Damon's batting average has dropped significantly every year. In 2012 with the Cleveland Indians he hit .222—the lowest of his career.
With runners in scoring position (RISP) the outfielder was even worse, hitting .154 in those situations (Curtis Granderson hit .254) and his WAR (for the real stat geeks) was a microscopic point one.
In the field Damon's arm has never been one to talk about. In May of last season ESPN's David Schoenfield called him "the worst arm in the big leagues." He pointed out that Damon couldn't even reach the cutoff man while the famously slow Adam Dunn of the White Sox lumbered around third base and scored in a game against the Indians.
The Yankees have better options already in house.
Among the players already on the 40-man roster for the Bombers are Zoilo Almonte, Matt Diaz, Juan Rivera and Melky Mesa. Each now has the opportunity to win the left field spot for Opening Day, and all give the Yankees better talent on the field and at the plate than Damon would.
In particular, the 23-year-old Almonte has flashed a good arm and displayed decent power this spring, and has been one of the players most discussed as a replacement for Granderson.
It would be a storybook turn of events if the Yankees brought Damon back to once again man an outfield spot in the Bronx. There is no argument to the fact that his heart and spirit are unequaled, and there are no words to describe what he has meant to past Yankee squads.
If he were to re-join the team and lead the Yankees to another title, it would be a movie in the making.
The problem is that you only see that sort of thing in the movies.
It's time for the team to look to what it already has and keep Damon where he belongs, as a part of championship memories.
Read more New York Yankees news on BleacherReport.com