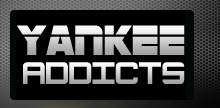 May 2, 2009 · Heartbeat Of The Bronx · Jump to comments
Article Source: Bleacher Report - New York Yankees
Most fans of baseball tend to recognize Mel Allen, Phil Rizzuto, or Bob Sheppard as the historical voice of the New York Yankees.
For as long as America's pastime is continued, cleats, pine tar, bats, and high socks will be as American as hot dogs and apple pie.
On the same token, the aforementioned voices of Yankees past will forever be linked to the Bronx as definitively as Babe Ruth, Mickey Mantle, Joe DiMaggio, and Lou Gehrig.
To Yankees aficionados, growing up during the Mattingly years with a radio in their grasp, however, "there can be only one."
New York radio personality John Sterling is the play-by-play version of Highlander: both incomparable and irreplaceable in our ears and in our hearts.
Sterling has been announcing Yankees games over the radio waves for 20 straight seasons. During that time period, he has not missed one game for any circumstance. His streak of nearly 3,400 consecutive games makes even Cal Ripken appear to be undedicated.
What most endears Sterling to Yankees fans is his unrelenting fandom. The passion and emotion flows from his brain to his vocal chords, forcing listeners to likewise hinge on every pitch.
Listeners can immediately discover the status of their ball club by the first words that pour from Sterling's mouth.
When in the midst of a convincing victory, Sterling is often caught giggling and marveling at every action a Yankee performs. Something along the lines of, "Oh Suzyn, isn't Jeter just UNBELIEVABLE?! Did you see him stride so effortlessly after that pop-up?!" "Suzyn" refers to his announcing partner Suzyn Waldman, essentially only present to bounce rhetorical questions off of.
During an embarrassing loss or unanticipated collapse, Sterling becomes utterly soaked in sarcasm. He uses every reserved muscle in his body to circumvent ranting like a beer-drinking fan sunken into his couch. You're likely to hear facetious phrases such as, "Well, the Yankees bullpen certainly did an extraordinary job holding onto the lead, didn't they Suzyn?"
In a game that is one pitch away from complete transformation, Sterling becomes an entirely different animal. You can sense the excitement and fear in his voice, and you are able to visualize his hands beginning to quiver. He can no longer control the baseball fanatic inside of him, as the pressure begins to build like an impending volcanic eruption.
At these moments, Sterling has earned a nearly mythological status. If New York is able to record the final out of a dramatic victory, he unleashes one of the game's most famous calls, "Ball game over! Yankees win, theeeeeeeeeeeeeeeee Yankeesssss WIN!!"
Sterling will differentiate the length of "the" depending on the importance and drama involved in the triumph itself. Furthermore, his body will begin to gyrate in a motion affectionately referred to as "the Sterling shake."
Nearly as popular and unforgettable as his final call, Sterling's home run calls apply a different twist. He has tediously invented a nickname for each and every offensive player on the roster, utilizing them to enhance an already wholehearted delivery.
There are enough timeless examples to fill an encyclopedia, so we will focus on some of the most beloved:
1. Melky Cabrera: "The Melkman delivers! It's the Melky Way!"
2. Hideki Matsui: "A Thrilla…from Godzilla!"
3. Jason Giambi: "The Giam–bino! It's a Bash from the 'stache!"
4. Alex Rodriguez: "An A-Bomb…from A-Rod!"
5. Bernie Williams: "Bern, baby, Bern!"
And my personal favorite,
6. Shane Spencer: "Shane Spencer…the home run dispenser!"
Immediately before one of these slogans is let loose, Sterling begins with his patented home run hint: "Swung on and…drilled to deep left! That ball is high…it is far…ittttttt's GONE!" It apparently takes no more than a key-chain to translate the experience to fans:
Sterling is without a doubt one of the more eccentric and zealous play-by-play announcers in all of sports. Though clearly an admitted "homer," he captivates Yankees Universe each and every time a game is played.
No other NY sports media personality can better capture the intensity and exhilaration of a moment than Sterling, because it truly means as much to him as any fan crowded around a radio speaker.
Sterling has earned this tribute and many more, and will forever resonate in my head whenever I attempt to recall any great moment in Yankees history.
I will leave you with one more of Sterling's epic calls, as he describes the final out of the 1998 World Series:
"Hit on the ground on a hop to Brosius, fields, throws across. In time! Ballgame over! World Series over! Yankees win! Theeeeeee Yankees win! The New York Yankees, professional sports' most storied, gloried franchise has once again scaled baseball's Everest! For the 24th time in their illustrious history, the New York Yankees are World Champions!"
The man, the myth, the legend…John Sterling.
---
Also seen at: Heartbeat of the Bronx