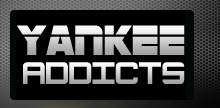 April 10, 2010 · John McKenna · Jump to comments
Article Source: Bleacher Report - New York Yankees
In baseball, the umpires are looked upon to make the tough calls. They know many of their decisions will be hated by some and loved by others. So for Joe West, a seasoned ump with 32 years of major league experience, his latest decision should have been a no-brainer.
He should have kept his mouth shut.
Unfortunately, West did just the opposite. He let his mouth run, and let fly some nasty comments about the Red Sox and the Yankees.
According to West, "They're [Red Sox and Yankees] the two clubs that don't try to pick up the pace," and that "It's pathetic and embarrassing. They take too long to play."
To an extent, West is correct. Boston and New York have become somewhat infamous for their extra-long, extra-tense contests throughout the season. Their average game time is often higher than the rest of the league. According to an article from ESPN Boston , the average major league game ran for 2:55. Sox-Yankees encounters clocked in at 3:40.
However, to call the teams' play "pathetic and embarrassing" is, well, pathetic and embarrassing. These teams are two of the most competitive and well-respected in all of baseball, and have been for decades. They are many things, but an embarrassment to the game of baseball they most certainly are not.
Players from both teams are understandably upset. Boston's Napoleonic second baseman, Dustin Pedroia, was very vocal about his displeasure over the comments. Yankees closer Mariano Rivera commented on West's remarks as well.
There are good reasons these games last so long besides wanting to bother West's delicate schedule. First, both teams are excellent at stocking their lineups with players who work the count and find themselves on base. In 2009, the Yankees had the best OBP in baseball , at .362.
The Sox came in second in that category at .352. The league average was nearly 20 points lower, coming in at .335. Hmm, does this lead anyone to believe that patience at the plate leads to wins?
If this is the case, and the Sox and Yankees share a winning formula, then West has no business criticizing how they play. Limiting player mound visits? Sure. Cutting back on the glove-fixing, shoe tapping, face twitching theatrics outside the batters' box? Go for it. But telling the players not to work the count? That just sounds silly.
For all the truth there was to his statement, it was one West never should have made publicly. Umpires are impartial mediators of the game, defenders of the rules and regulations. It is not their job to openly take shots against one or more teams. If he had such a burning hatred for lengthy A.L. East match-ups, he should have kept quiet and submitted a complaint to Mike Port, the V.P. of umpiring.
Instead, West will likely be fined for his words. His apparent bias might also force his bosses to stop him from calling games in New York or Boston.
If he really had somewhere important to go during the series, he should have left. After 32 years in the business, he should know where the door is.
Read more New York Yankees news on BleacherReport.com