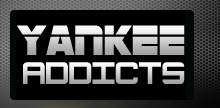 May 6, 2013 · Kenny DeJohn · Jump to comments
Article Source: Bleacher Report - New York Yankees
Robinson Cano, Phil Hughes and Joba Chamberlain are just a few free agents that the New York Yankees will have to internally discuss this offseason, but another FA that anybody fails to give recognition to is manager Joe Girardi.
Girardi has been the Yankees manager since 2008. After signing a new three-year contract after the 2010 season (one that has paid him $3 million per year plus World Series incentives) is set to expire following the current season. The Yankees need to decide if Girardi is the right choice to manage the Yankees moving forward, but I'm not so sure the choice is an easy one.
The Yankees' record since 2008 only goes so far in evaluating Girardi's performance as manager. In his six-year tenure (including the first month of this season), Girardi's Yankees have posted a record of 497-343. Girardi also has a American League Pennant and World Series title on his resumé, both from 2009.
I say his record only goes so far in evaluating his managerial prowess because of the obvious talent the Yankees have. His World Series team featured CC Sabathia, Mark Teixeira and A.J. Burnett (aside from the obvious core of talent), and it would have been considered a disappointment had the team filled with high-profile stars not won the series.
Managers rarely have to work hard to produce wins when their rosters are loaded with talent. So far this season, however, Girardi has done an excellent job overcoming injuries and putting a winning product on the field.
Injuries to Teixeira, Granderson, Derek Jeter, Alex Rodriguez and Kevin Youkilis have forced Girardi to piece together a lineup featuring the likes of Lyle Overbay, Travis Hafner, Vernon Wells, Eduardo Nunez and Jayson Nix on an everyday basis. The fact that a majority of these placeholders have been performing has made his job a bit easier, but Girardi's ability to ride the hot hand has proven valuable in 2013.
This season was thought to be a lost cause when this slew of injuries hit. Girardi has done enough work thus far to be considered for American League Manager of the Year, but that could all change when reinforcements arrive throughout the remainder of the campaign.
If the Yankees relinquish their strong play when the stars arrive, then Girardi's job could very well be on the hot seat this winter. The Yankees have been winning this season with team chemistry and timely hitting. Last season's Yankees were susceptible to late-inning situations with runners on base, mostly because of high strikeout totals with runners in scoring position.
Granderson and Rodriguez were the main culprits, though Teixeira had his fair share of big outs as well. When these guys come back, Girardi will have to find the best ways to keep their bats alive.
Girardi has been scrutinized during his time in New York because of his handling of the pitching staff. Joey Looseleafs, as he's often called, loves to play the numbers game. And who can blame him? Trends are generally a good way to predict future outcomes.
Unfortunately, he often relies too heavily on the notebook and not enough on situational trends. This makes his pitching changes backfire on occasion and costs the team wins. It doesn't happen all that often, but it happens enough that Yankee fans sometimes question his pitching changes.
Of course, the Yankees brass won't be choosing next season's manager based on the opinion of the fans. The best candidate available will obviously get the job. Whether that candidate is Girardi has to do mostly with the result of the 2013 season.
It may not be fair to expect a World Series berth from this team but, with the way this ragtag bunch started, a playoff berth is surely in order. If Girardi cannot lead his team to the playoffs, then he may not be back in 2014.
Cano, Hughes and others may be the team's most notable free agents, but Girardi is one that is certainly worth noting. Expect his future role with the team to be talked about much more during the second-half of the season. For now, just remember that his job isn't guaranteed for 2014.
Read more New York Yankees news on BleacherReport.com