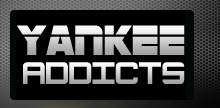 June 22, 2009 · Dan Hanzus · Jump to comments
Article Source: Bleacher Report - New York Yankees
Joe Girardi doesn't need to be told how important this upcoming six-game road trip is for his team—the events of the last two weeks have made things exceedingly clear. The Yankees have lost five games in the standings to the Red Sox since June 9, after all, while somehow managing to play worse than their 4-8 record over that span indicates.
If not for the reverse heroics of Luis Castillo and Elijah Dukes, we would have an outright free fall on our hands. The sweet taste of Burnett's Famous Whipped Cream Pie suddenly seems so far away.
And while Girardi needn't be reminded how it would behoove his team to turn things around post-haste, you have to wonder if the matter of job security has crept into the second-year manager's head.
Girardi is facing the great unknown in that regard. We all are, really, from fans to the manager to nearly every member of the front office. Ol' George may be still alive … but he ain't kickin' no more, and with that reality begs the question: How much rope does the manager of the New York Yankees get these days?
Were George still George, you can be certain he'd be going apeshit right about now—firing off insane missives to the press, sweating through closets worth of white turtlenecks, discontinuing dental care for the help—you know the drill.
And while I believe Girardi would probably still be employed at this point, The Boss would have made it quite clear that falling any further in the standings—or God forbid losing the first series against the Mets at Citi Field—would not be tolerated.
So Girardi is extremely fortunate in the sense that a borderline crazy person is no longer running the show in the Bronx. But we're still not sure who ultimately controls Girardi's fate, and how much patience that figure or figures is affording the manager.
General partner/head honcho Hal Steinbrenner, president Randy Levine and GM Brian Cashman are probably the most respected figures in the front office and will likely have the loudest voices in the room.
Hank Steinbrenner has been effectively muzzled at this point, his brilliant insistence to re-sign A-Rod at any cost seemingly the final move of any significance in his lifetime.
Team COO Lonn Trost is ducking the axe himself following his almost impressive firebombing of Yankee Stadium's inaugural season. All you need to know about Trost is that at some point, the following exchange (probably) happened:
Lonn Trost: "So I decided we're going to build a moat—an actual moat of steel and mortar and concrete—to keep the real fans away from the best seats in the house. We'll section these off for the corporations, and since America has an unstoppable juggernaut of an economy, these fat cats will pay whatever we demand no questions asked."

Hal Steinbrenner: "Lonn, with all due respect, are you sure that's a good idea?

LT: "Positive. Dude, we're going to give out free ice cream sandwiches. Free. ice cream. sandwiches."

HS: "Right. Okay. Just so you know, you'll be totally and utterly fired if this were to backfire in any way."

LT: (Nervous chuckle) "Yeah, of course. Well, just to be safe I'll have them move in the fences in right a few feet. Nobody will be able to tell the difference. Chicks dig the long ball, right? Classic Trost." (Holds up hand for high five)

HS: (Leaves Trost hanging, walks away) "I think I've made a huge mistake."
Girardi has never been the most popular guy since taking the gig. Though he was more or less absolved of last season's dark October, he hasn't done a particularly good job of making friends during his tenure.
His relationship with the local media—an incredibly important aspect of the job in this town—can be labeled "uneasy" at best. After a near jihad with the reporters last September—the scribes felt that Girardi had lied or misled them on certain issues—Girardi went out of his way to make peace during spring training, promising to be more forthright.
Meanwhile, there continues to be rumors of a disconnect between the young skipper and his veteran players. Girardi, of course, played with the old guard, stroking that famous triple off Maddux in the '96 clincher.
It's hard to imagine Jeter, Posada, Pettitte, or Mo making life difficult for their former teammate, but you have to wonder where all that smoke comes from.
The Yankees are big business. With their own network, a shiny new stadium and nearly half a billion invested in their latest free-agent class, they're bigger than they've ever been. All of this means success is a necessity, especially in this landmark season in the organization's history.
It doesn't take a genius to figure out that—regardless of the decision makers—Girardi will be the first to go if the USS Yankee starts taking on serious water.
At 38-31, the Yankees are hardly in a desperate place. But with the Red Sox again looking like a 95+ win beast and the defending AL champ Rays beginning to make noise, the pressure is building to win now and often. All of which makes Joe Girardi's seat by far the hottest place in an otherwise cool and damp New York.