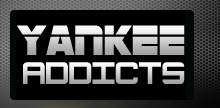 April 29, 2009 · Heartbeat Of The Bronx · Jump to comments
Article Source: Bleacher Report - New York Yankees
After loading the bases in the third inning, Joba Chamberlain appeared one pitch away from a disastrous outing.
Chamberlain had already walked three batters, thrown just 43 percent of his pitches for strikes, and trailed 1-0.
One gutsy pitch sequence later, he had retired the Tigers' hottest hitter (Miguel Cabrera), and returned to the dugout with a new found confidence. It would ultimately be the last wrinkle in a memorable performance.
For the first time in 2009, Chamberlain brought something out to the mound other than a fastball, curveball, slider, and changeup. He brought the intensity and passion that made him the untouchable reliever of years past.
Though not resorting to tribal screams and Mike Tyson uppercuts, Chamberlain was again able to take the training wheels off of his fastball.
The added passion not only bumped his 4-seamer up into the mid-90s, but also returned the downward tilt to an increasingly deceptive slider. A pitch all too simple to lay off of in recent weeks, his slider became as tempting as an apple in the Garden of Eden.
Chamberlain's final line read 6 IP, 3 hits, 1 ER, 3 BBs, and 6 Ks. Regardless of his disappointing start, he ended up hitting the strike zone with 57 percent of his pitches. His latter inning dominance, however, could not possibly be reflected in a box score.
The transition from increasingly mediocre to unhittable took no longer than seconds, as if Chamberlain had snuck into a phone booth and emerged donning a red cape.
Following a seven-run outburst in the top of the fourth by New York, Chamberlain retired the next nine Tigers in order, striking out four.
It appeared as though the Tigers lineup was caught with their pants down, unsure of how to handle the swaggering right-hander. A confused and timid expression was suddenly replaced with a stern and intimidating glare.
If not for a heart-stopping ninth inning, whispers of a bullpen transition for Chamberlain could have been quieted for at least another week.
Even an 8-1 lead was not large enough for New York's "enigmatic eight," however, as Jonathan Albaladejo and Mariano Rivera rapidly turned a laugher into an 8-6 game.
Rivera held on to literally "save" himself and the Yankees, although he will not be credited with one in his stat line.
A 0-for-4 beginning to a difficult road trip has now become a series victory in Detroit. Two young and underpaid hurlers have silenced critics of an underachieving starting rotation, and New York can return to the Bronx once again above .500.
It remains to be seen if we have witnessed the start of a reassuring trend or a simple calmness within the eye of the storm. Either way, fans should be able to sleep much more soundly tonight as their heads hit their pillows.