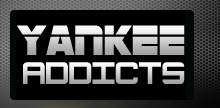 April 1, 2010 · Travis Rand · Jump to comments
Article Source: Bleacher Report - New York Yankees
When I get home from my dorm room during school breaks, I often like to see my little brother, spend some quality time with my mom, and talk sports with Dad—a fellow pinstripes fan.
The only thing I enjoy more than these things—yes I said more—is seeing my autographed Joba Chamberlain jersey that hangs above my bed.
He has been my favorite player on the Yankees since he was called up. And that won't change anytime soon.
The autograph was obtained in person two years ago when I met Joba in Florida. He was an extremely nice guy, and joked around with me and a friend.
As big of a fan as I am—I am NOT blind.
Let's not beat around the bush, either. The development of Joba Chamberlain into the big leagues was rushed, stuttered, and anything but clean.
Chamberlain made 19 appearances out of the bullpen in the 2007 season. He baffled opponents with a heater that could approach triple digits, and it was reflected as he finished the season with an incredible 12.75 K/9.
Chamberlain spent his first full season on the big league's roster in 2008—making the most of it, yet again. He was used as a reliever 30 times, and also started 12 games for the Yanks. Joba hit 100 innings pitched, and finished with a sub 3.00 ERA—another successful season, with almost 20 holds.
Then things got weird.
Enter 2009, the Yankees move Joba Chamberlain to the rotation for good…kinda.
April 2009
Joba gets off to a hot start with a victory over the Royals, where he only allowed one earned run—a homer.
His next outing was not so successful.
Chamberlain got hammered by The Tribe to the tune of five earned runs in only four innings pitched.
He picked it up in his final two starts—with only two earned runs in 12.1 innings pitched.
The pitch counts were clearly in place, as Joba exceeded 90 pitches only twice in his four starts. The cause for concern was minimal, as it could be attributed to early season kinks, but Chamberlain's K/BB ratio was 1.3:1—surprisingly bad, considering how controlled was when he came out of the pen.
April Total: 23 IP , 8 ER, 2 HR's, 3.13 ERA, K/BB: 17/13 ( 1.3:1)
May 2009
May would be an up and down month for No. 62, and unfortunately more of the latter.
He struggled in his first start of the month against the hated Red Sox, as he was blasted for yet another homer, and four earned runs. There was a bright side—Chamberlain retired twelve of the Sox by way of the K, in only five innings.
Joba picked up his second "W" of the year in Baltimore, although sacrificing (you guessed it) another long shot.
He followed that strong outing with another in Minnesota, allowing only two runs in six innings of work. He was also allowed to throw 108 pitches for the second time in three starts.
In his second-to-last start of the month , Joba took a line drive off the knee after only two-thirds of an inning in Baltimore, and struggled through only four innings in his last start of the month, against Texas, before being pulled after 85 pitches. Don't fret though —before Chamberlain was pulled, he gave up his daily moon shot. For those of you taking count at home, that's six homers in nine starts.
May Total: 22.1 IP , 12 ER, 4 HR's, 4.84 ERA, K/BB: 29/12 ( 2.4:1)
June 2009
In what could be considered one of the most consistent months in pitching history, Chamberlain had outings of eight, six, six, four, and five innings in his six starts, and had a total of 600 pitches thrown.
Hmmm , you would almost think Cashman and Girardi were doing that on purpose.
Chamberlain alternated giving up two or three runs in those six games, with his shortest outing being a four-inning stint against the Mets. Surprisingly, Joba only gave up one hit in the start, but he allowed five guys a free pass and reached his 100 tosses in what seemed like the blink of an eye.
June Total: 35.2 IP , 15 ER, 3 HR's, 3.79 ERA, K/BB: 27/15 ( 1.8:1)
July 2009
His best month to date came after two horrible outings, where He totaled eight innings, 18 hits, 13 runs (thankfully only 7 earned), and three more homers to add to his ever climbing total.
However, he answered the call royally in his final three starts of the month, knockin' down Detroit, Oakland, and Tampa Bay, picking up the win in all of them. He surrendered only two earned runs during the stretch of 20-plus innings of work.
Toward the end of July, it looked like Joba might finally be breaking into his new role as a starter, and embrace a career in the rotation of the New York Yankees. Then…the calendar turned to August.
July Total: 29.2 IP , 9 ER, 4 HR's, 2.73 ERA, K/BB: 24/10 ( 2.4:1)
August 2009
Following his best month, Chamberlain came out in August and got pelted by the Red Sox, Mariners, and Jays. He allowed four earned runs in each start, and only struck out twelve, the same amount that he handed out free passes to.
In his final game with no pitch count, Chamberlain gave up seven earned runs to the Texas Rangers in only four innings—this was one of his final true starts.
He would later go six innings in September to the Red Sox, but aside from that outing, he only managed to go three or fewer innings in six of his final seven starts.
The Yankees began a new method with Chamberlain on Aug. 30 against the Chi Sox, when Joba was pulled after only 35 pitches in three innings of work, with two runs on the board. The Yankees continued with this, to most fans' chagrin.
August Total: 23 IP , 21 ER, 3 HR's, 8.22 ERA, K/BB: 18/15 (1.2:1)
September 2009
Essentially, this month summed up the entire project the Yankees had been working on.
In a decision that was questioned, pondered about, and ultimately criticized by the media, the Yankees would go about with the normal rotation, but they would instead only have Chamberlain throw in the vicinity of 30-40 pitches, and then usually use a long reliever for the next three innings, until eventually hitting the bullpen regulars.
Of course, there were many things wrong with this plan—including the toll it took on the bullpen over the course of the month . It is often under-appreciated how much Alfredo Aceves did for the staff during the final month .
Joba was again rocked hard, giving up two runs in all but one of his starts, and was thrashed for seven runs against Seattle.
The Yankees then announced that Chamberlain would serve as a reliever during the postseason, and Phil Hughes would also accompany him in the pen. Saying that I let out a sigh of relief is like calling Kim Kardashian pretty—a vast understatement .
September Totals: 22.2 IP , 18 ER, 7.15 ERA, 5 HR's, K/BB: 17/11 (1.5)
Post-Season
Chamberlain then went on to dominate in the postseason, appearing in 10 games. He pitched a total of 6.1 innings, only giving up two earned runs. He also struck out seven, while only walking one.
Phil Hughes was absolutely torched in the postseason, getting hit hard against the Twins, and twice by the Phillies.
The Joba Effect
There are plenty of reasons I enjoy Joba coming out of the bullpen rather than taking the mound in the first inning, but researching for the article, the main reasons soon surfaced, and they surprised even me.
The K/BB Ratio: In his first year as a reliever, Chamberlain went 34/7 (4.9:1), displaying his ability of controlling his pitches, and making hitters miss.
In 2008, he put down 44 batters, with only 14 walks (3.1:1) as a reliever.
In 2009, he had his worst walk year by far, allowing 76 total walks, only one of them came in the postseason, while in relief. It's clear he has much more control while only working somewhere around an inning.
The Long Balls: Twenty-seven. A very popular number with Yankees fans, except this one stands for something else.
Joba has given up 27 long balls in his career, and in roughly 75 frames from the bullpen, he has only given up one home run (to Pedro Feliz in the World Series).
That's not it though.
Chamberlain seemed to give up home runs in bunches, having four games in which he allowed multiple moon shots. It didn't help that home runs accounted for almost 40 of Joba's earned runs, as he always seemed to give them up with ducks on the pond
The Future: 2010 and Beyond
Entering this season, Chamberlain will return to the pen—for the good of the team and the future of the New York Yankees.
Phil Hughes has had a great spring, and I have full confidence he will one day be a very good pitcher, and at the very least, he is serviceable for now.
There will always be discussions about moving Joba back, especially if we don't re-sign Javier Vasquez, or if Andy Pettite finally rides off into the sunset.
For the sake of the organization, I hope they just snag a cheap starter off the wire, or use one of the valuable prospect pitchers (Manny Banuelos , Zach McCallister , etc.)
If all goes according to plan, Phil Hughes will complete the Yankees more than capable rotation, and move one step closer to being a number two or three starter in the future.
Hopefully Joba Chamberlain, Alfredo Aceves , Dave Robertson, and Mariano Rivera can control the game from the seventh and beyond.
And maybe, just maybe they can all celebrate in October, as long as Chamberlain comes out of the bullpen when they rush the mound.
Travis Rand's archive can be found here . He is a former Community Leader for the New York Giants, until his freshman year of college consumed his life. He is also a true believer in Jason Heyward .
Read more New York Yankees news on BleacherReport.com