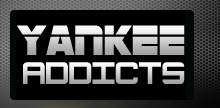 June 2, 2009 · Heartbeat Of The Bronx · Jump to comments
Article Source: Bleacher Report - New York Yankees
The great Joba Chamberlain debate has raged on for years, rivaling other conundrums of past and present history.
Coke or Pepsi? Boxers or briefs? Paper or plastic? To be or not to be?
The "bullpen or starting rotation" question may never be settled with regards to Chamberlain's ultimate future, but last night's effort may have helped New York arrive at a temporary decision.
Chamberlain was sent out to pitch the eighth inning of a close game on Monday night, trying to preserve a victory for a Yankees starter who pitched magnificently over the first seven.
Haunting nightmares of a 2007 ALDS gone bad were revisited by the arrival of the same midges that once shook the confidence of the Yankees reliever.
This time the bugs did not travel alone, as a flock of seagulls blanketed the outfield grass like an eerie sequel to Alfred Hitchcock's The Birds.
Chamberlain was able to maintain his composure this time around, determined not to repeat his October meltdown.
He proceeded to effortlessly coast through the inning 1-2-3, like he had done so many times before in setting up for Mariano Rivera.
Does this sound familiar?
The eighth inning has always been Chamberlain's personal sanctuary—a place as comfortable and relaxing to him as a Tempur-Pedic mattress.
The Yankees had finally seen all that they needed to see.
Their talented young hurler was best cut out for a setup role, especially if the team could get such rock-solid pitching out of its starters.
The starter who put New York in a winning position on this day, however, was in fact Chamberlain himself.
Will Chamberlain be a starter or setup man for the Yankees in 2009? The answer that manager Joe Girardi would like to hear is "both."
In going eight innings while allowing just two runs on four hits, Chamberlain was able to perform admirably in early innings, while also preventing the underbelly of the Yankees bullpen from being exposed.
The most impressive statistic of the evening shows that he recorded 20 of his 24 outs via a groundball or strikeout.
For a power pitcher who likes to throw fastballs up in the zone, allowing just four balls to be caught outside of the infield truly epitomizes his dominance.
Chamberlain followed two very disappointing starts with possibly his best of the season, which has inevitably caused the emergence of yet another pitching query.
Of the starters Phil Hughes, Chien-Ming Wang, and Chamberlain, who will occupy the final two rotation spots once we reach the All-Star break?
This question may not be answered for quite some time, but the Yankees thoroughly enjoy addressing it.
After all, wouldn't every team love to have the "problem" of having to choose between three successful young starters?
Chamberlain looked calm and collected in his return to the eighth inning on Monday.
However, it appears that he will only get there again in the near future if he also pitches the first seven.
Also Seen At: Heartbeat of the Bronx