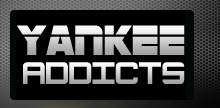 May 28, 2009 · Daniel Mader · Jump to comments
Article Source: Bleacher Report - New York Yankees
The Yankees beat the Rangers last night in dominant fashion.
A.J. Burnett pitched six shut-out innings, fanning seven batters to receive his third win of the season. Matsui homered (seven HRs) in back-to-back at-bats, along with Teixeira (15 HRs) who homered early, giving the Yankees the lead for the entire game.
How the Yankees won is not what caught my attention in this game. What caught my attention was the seventh, eighth, and ninth innings of watching who was pitching in the bullpen to help hold onto the huge lead.
To start the seventh, Veras came in and was only able to produce one out before giving up two runs. Yankee fans all around were feeling the need to hold their breath, even with a six-run lead at this point.
Thankfully, Robertson came in to close out the seventh with only the two runs.
The next inning Wang came out to pitch, proceeding with this bullpen session. Girardi had him in until they made the decision to move him back to the rotation.
Wang fanned three batters in a row in the eighth, seeming to have solid control and velocity, giving me assurance that the Wang we saw in the beginning of the season was just an injured one.
This is where I had the most interest in the game.
When will they move Joba back to the bullpen? Or will they move him back to the bullpen?
Our less than reliable bullpen needs improvement in pitching in the eighth to get the lead intact for MO to close the deal.
Yankees haven't had that kind of assurance since Joba was setting up for MO. I know Joba has great stuff and is supposed to be a starting pitcher, but why not shorten the games for our starting pitchers.
When the Yankees went on their run during the late '90s, they had a bullpen that would shut teams down. Stanton and Nelson could come in the seventh, Mendoza in the eighth, and MO in the ninth.
If the Yankees had a lead going into the seventh inning, they almost won automatically. The No. 1 thing the Yankees have not been able to replace from their World Championship teams is the bullpen.
Joba can help provide depth and stability to a bullpen, which—outside of MO—has been shaky to say the least. Wang can also help the bullpen by going back to the rotation and being the inning-eater that he has been since joining the team.
Joba needs to go back in the bullpen, where he'll find his future as the eventual replacement of Mariano Rivera.