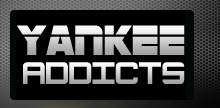 May 28, 2009 · Colin Linneweber · Jump to comments
Article Source: Bleacher Report - New York Yankees
Disgraced New York Yankees playoff hero of yesteryear Jim Leyritz is determined to prove that he is innocent of a DUI manslaughter charge that stems from a December 2007 automobile crash in Fort Lauderdale that killed Fedia Ann Veitch, a mother of two children.
"There was no possibility of me avoiding that crash with all of my senses," Leyritz, 45, told The Miami Herald despite the fact that he operated his SUV with a blood-alcohol level more than one-and-a-half times the legal limit.
"A mother was taken away from her kids. I can't change that. But I didn't do it. The accident did. And that accident wasn't my fault."
The delusional Leyritz, a career .264 hitter who played on seven teams in 11 seasons, reportedly got drunk on Grey Goose vodka and tonics while he tried to seduce Playboy pin-up Erica Chevillar at a local club that fateful evening.
Once he vacated the hotspot and drove off on his lonesome, Leyritz allegedly ignored a red light and smashed into Veitch's vehicle at full-speed which sent the victim, who wasn't wearing a seat belt, through her windshield.
"You don't get that image out of your head real easily," stated the two-time World Series champion who will live in Yankee lore for his three-run homer off Atlanta Braves closer Mark Wholers in Game Four of the 1996 World Series.
Dishearteningly, toxicology reports confirmed that Veitch was also intoxicated at the time of the accident and Leyritz is confident that he can demonstrate that she caused the collision.
On virtually a daily basis, Leyritz, who goes on trial in September, revisits the scene of the tragedy in an effort to gather evidence that Veitch was to blame for the fatal occurrence.
"It's unhealthy," Leyrtiz's lawyer, J. David Bogenschutz, told the New York Daily News regarding his client's twisted obsession.
The Ohio native, who played college baseball at the University of Kentucky, insists he is blameless in this incident and he scoffs at talk that he is an alcoholic.
"I've never had a problem with alcohol," claimed "The King," who has purportedly been ejected on a number of occasions for disorderly behavior from the same establishment at which he attempted to charm one of Hugh Hefner's floozies.
"To listen to people who don't know the facts hurts, but I can't help it. I listen," admitted the accused drunken driver, who hit the last home run of the 1990s in Game Four of the 1999 World Series.
"Until you've been in my shoes," Leyritz poorly reasoned, "don't judge."
Fortunately, the grand bulk of society has never been in "The King's" shoes and, until Leyritz comes to grips with his demons, he will never be comfortable wearing his own pair.
Please see original article here.